Normandy

– June 6, 2003

The 2nd and 5th Ranger Battalions participated in the June 6, 1944, D-Day landings at Omaha Beach, Normandy. It was during the bitter fighting along the beaches that the Rangers gained their official motto. As the situation became critical on Omaha Beach, Brigadier General Norman D. Cota, Assistant Division Commander of the 29th Infantry Division, stated that the entire assault force must clear the beaches and advance inland. He then turned to Lieutenant Colonel Max F. Schneider, commanding the 5th Ranger Battalion, and said, "Rangers, lead the way!" The 5th Battalion spearheaded the breakthrough that enabled the Allies to drive inland from the invasion beaches.

Flowers of Remembrance Society in Normandy, France. This Society tends the gravesites of many Rangers whose families may never see their loved ones' final resting place. He is also an Honorary member of the RBA S&D. Franck attended the services at Normandy this morning (June 6, 2003) and promptly sent this photo and email into the website.

The Rangers have not been forgotten, nor have their heroic efforts and grave sacrifices been lost in the hearts of the French people. Thank you Franck for reminding our Rangers of your sincere gratitude for the historic events initiated 59 years ago today.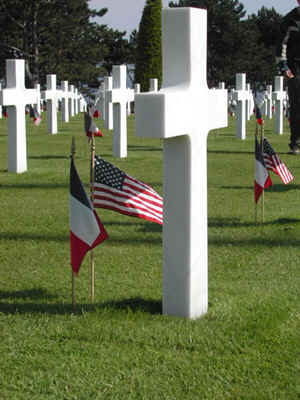 Shortly after Franck's message and photo were posted here, we received yet another email from French citizen, Laurent Lefebvre, with this message and permission to post the photo (to the left) from his site. This is one of many that are posted on his website from June 6, 2003.
Laurent's Message:
Dear Friends,
You can see on www.americandday.org all the pictures of the 59th Anniversary.
God Bless you!
Laurent Lefebvre
Franck's message:
I want to let you know that we have on this day, a special thought for the WW2 Rangers and for all the sacrifice that they have done for us in Normandy in June 1944.
Enclosed a picture that I took at Pointe du Hoc this morning, Mayor of Cricqueville en Bessin (MrLedevin) organized a ceremony in remembrance of WW2 Rangers.
God Bless you all!
Franck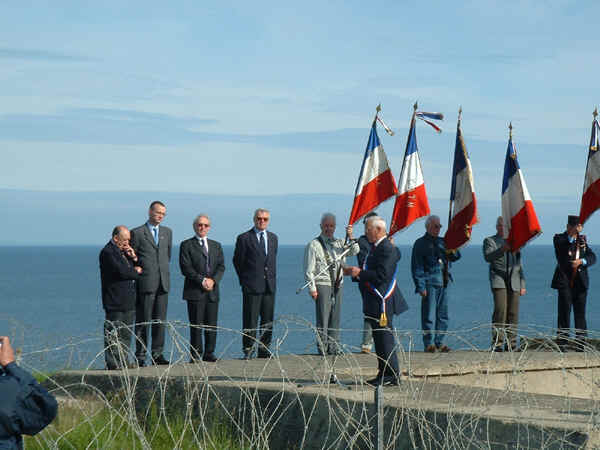 Below are views of the cliffs, the spear you see atop the cliff is the Point du Hoc Memorial
Photo courtesy Franck Mourand