Achnacarry

2003

Well, we made it to Scotland last week -- and I made it to Achnacarry! I learned a lot about Scotland/Achnacarry but unfortunately saw very little of the latter. This is partially due to the fact that there was very little W.W.II Ranger stuff to see...

Click here to see what it looks like at this very moment via the web cam at Fort William.

After Action Report
Negotiated driving on the left side "reasonably well" which means no accidents or tickets. The counter person at National/Alamo rental was a little concerned when I asked which way to go around the "Round Abouts", and my son started counting how many times I hit the left curbs (9 times) and hit the left mirror (2 times). But I only forgot twice about which side to drive on - and we did narrowly avoid causing two potentially serious accidents. We just barely missed one sheep who will probably never get in the road again. The owl was not as lucky...

Many historical sites in Scotland officially close at 5:00 - but they unofficially start closing about 4:15 . More on this tidbit later.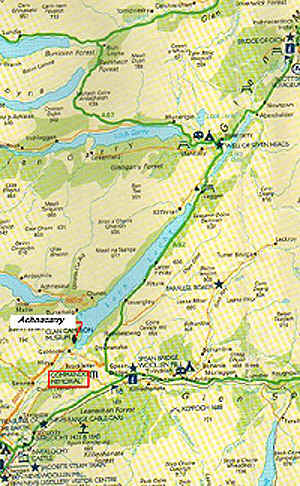 Achnacarry can be found on some detailed topo maps and on some of the old historical maps -- listed as " Achnacarry Castle ," I believe it would be more accurately classified as the Achnacarry house.
The Achnacarry house is about 35-40 miles south of the Loch Ness area, and since we were sure that we would see Nessie, we stayed until the very last minute before driving even more dangerously down to the Achnacarry house area. To get to the Achnacarry house from Spean Bridge, you have to travel approx one mile on a nice 2-lane road, and then 5+ miles on single lane roads (B8004>B8005) which cross the Caledonian Canal (constructed to allow boats to travel from one loch to the next) and Neptune's Staircase (a series of locks to raise the boats to the level of the next loch.) Absolutely beautiful countryside!
The map will save you lots of time looking for the Achnacarry house/area as well as save you a lot of misery arguing with your spouse that it really does exist and is worth the ramble around the small and narrow roads. Remember - get there before 5:00 if you want to take photos of the house.
We got there late, about 8:30 - which we did for many places in Scotland since it did not get really dark until 11:00 PM ! Great for Ranger patrol training... We did many forced marches/hikes up until 10:30PM . If I had the last name Cameron, or had been properly attired with either a black or green beret, then I would have slipped in. But to the protests of my wife, I did not.
Achnacarry seemed to be a private estate -- across from the Clan Cameron museum -- and the front gate closed at, guess what, 5:00 . The Achnacarry house is about 6 miles N-NW of the town of Spean Bridge where there is a great memorial to the British Commandos as well as other materials referring to the British Commandos - Commando Museum, Commando Bar, etc., etc.
The photo below is the plaque that is in the base of the monument seen to the right.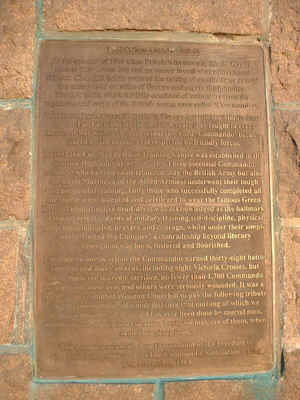 Click here to view the actual text.
Photos and story submitted by Ron Hudnell, son of Ranger James Hudnell (2/D).
Unfortunately, the sun in the background did not help the detail.