Bataan

Memorial Death March
Follow the participation of Ranger Ron Hudnell
Son of WWII Ranger James Hudnell, 2/D
Also check: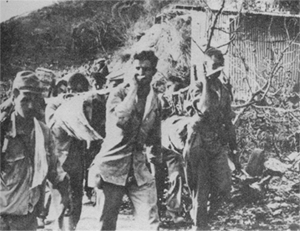 Bataan Memorial Death March:
March 2004
The historic significance of this upcoming Memorial event to the Ranger Family lies in its Ranger History and the way this history will be paid tribute by the participation of Ranger son, Ron Hudnell. This event was captured in a book by Hampton Sides, Ghost Soldiers, and will be reenacted in a motion picture, The Great Raid, to be released in theaters around the country in February 2004. Sixth Battalion Ranger, Robert Prince, has viewed the film documenting what has been described as, the greatest rescue in American Military History!
Following the surrender of Bataan on 9 April 1942, prisoners were force marched 65 miles over a period of five to seven days, with no food, water, or rest. They were marched to Camp O'Donnell. Those unable to keep the pace were killed, often forced to dig their own graves, and then buried alive. Some were used as target practice for Japanese guards in training.
The positive aspect of this gruesome story lies in the rescue of the survivors of the Bataan Death March by an expertly executed mission of our own 6th Ranger Battalion, the Cabanatuan Raid. This operation stands as another testament to the amazing accomplishments of the World War II Rangers.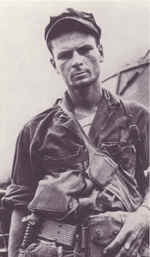 Ron's purpose in participating in such a grueling tribute is to represent those 6th Battalion Rangers who are no longer able to do so, and also to commemorate yet another outstanding Ranger accomplishment. In communicating with Ron on the significance of his participation he explained:
Rangers are Rangers because they like to take on new challenges and do the impossible. I did do some long marches in Ranger School - many years ago - so I guess "Once a Ranger, always a Ranger! Rangers Lead The Way!
It is, most of all, the Ranger scroll/tab, which binds all Rangers together into a single body, so as a Ranger, and son of a 2/D Ranger from WWII, I do this event for the Rangers of the 6th Battalion who rescued the American POW's at Cabanatuan.
And so the understanding of such an ordeal begins to unfold. Ron's unselfish dedication to this event on behalf of the 6th Bn stands as an inspiration to us all. It represents the dedication, commitment, and focus of unity which built the foundation to the many Ranger successes throughout our nation's history.
We all join him in Ranger Spirit.
Rangers lead the way!
Event

Photos for the BMDM: March 21, 2004

White Sands Missile Ranger, NM
Ron Hudnell: Son of WWII Ranger James H. Hudnell 2/D

"Remembering the gallant efforts of the 6th Rangers in rescuing the Bataan prisoners being held in captivity at Cabanatuan."