Ranger

Lester B. Cook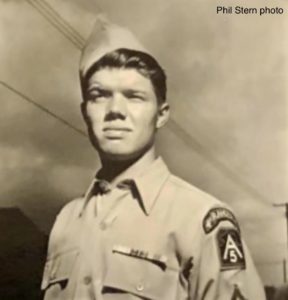 Born: 25 September 1922, Des Moines, Iowa
Died: 9 August 2020 in Des Moines, Iowa
Army Serial Number: 20704510 (National Guard)
Ranger Battalion/Company: 1E 4A
Rank: MSGT
Enlisted: 10 February, 1941 Des Moines, Iowa
Battles/Campaigns/Significants: Arzew Landing in Algeria, Gafsa, Sened Station & El Guettar in Tunisia, Gela, Butera, Sicily, Salerno, Maiori, Chiunzi Pass, Venafro, Anzio Landing, Cisterna, Italy
Medals/Awards:  Combat Infantryman Badge, Bronze Star Medal, Silver Star Medal (Venafro,Italy), Silver Star Medal (Korea) EAME Campaign Medal, WWII Victory Medal, American Defense Medal, Good Conduct Medal, Presidential Unit Citation (El Guettar} Inducted into The Ranger Hall Of Fame in 2020
Biography
MSGT Lester B Cook
Lester Bernard Cook was born in Des Moines, Iowa.  He was the son of Otis Willard Cook and Florence Beebe.  His dad supported his family as an electrician,  He was a veteran of WWI.  Lester and his two sisters, Louise and Betty grew up in the Eastern area of Des Moines.  Lester B. Cook graduated from East High School of Des Moines with the Class of 1940.
Lester enlisted in the Iowa National Guard while still in high school. His unit the168th Infantry Regt. 34th Division "The Red Bulls". was activated 10 February 1941.  In 1942, he volunteered and became one of the "Original Darby Rangers" of the 1st Ranger Battalion, an elite special operations force that trained with the British Commandos in Archnacarry, Scotland.  Out of 1500+ men who volunteered when the 1st Ranger Battalion was assembled, only 500 were chosen to undergo training so realistic and rugged it was conducted under live fire.
"My understanding is that I am the only one of us still alive," said Sgt. Cook by telephone recently. That status ranks him as the Lone Ranger. "I had no idea what I was getting into when I saw a notice on the bulletin board about the Rangers. I was stationed in Belfast, Ireland with the 168th Infantry."
Lester embarked on a military career that spanned three wars and 26 years. The Boy from the Eastside of Des Moines became a man who earned 2 Silver Stars, Purple Hearts  Presidential Unit Citations among many other accolades for intrepid exploits in faraway battlefields ranging from North Africa, Sicily, Italy to Korea and Vietnam.
He served the full tour with Darby's Rangers.  He was awarded his first Silver Star Medal for action on the Winterline in Venafro, Italy.  After fighting the Germans at Cisterna, Italy with the 4th Rangers as a SGT he had enough time to return home with 197 other seasoned Rangers on the ship "SS Edward Richardson.".  The Rangers disembarked at Hampton Roads, Virginia on 3 May 1944.  They were transported to Camp Butner, North Carolina.  After the Rangers returned from much needed furloughs, they were honored and presented awards in June of 1944.  Life magazine covered the event.
By the time VE Day was finally achieved, Sgt. Cook was back at Fort Campbell in Kentucky.  He recalls his distinguished service now with the unique mix of matter-of-fact modesty and pride that's like a birthmark of the Greatest Generation. "I wasn't there (in Europe) then, so I don't remember really celebrating," he said. "But I sure was glad that it was over."
SGT Cook continued his military career serving in The Korean War.  He served as a platoon SGT with the 187th Airborne Regimental Combat Team.  He earned another Silver Star Medal in his tour in Korea.  In Vietnam Lester served as the SGT Major of the 77th Special Service Group.
After his military career,  Lester began a second less hazardous one as another type of public servant with the US Postal Service that lasted 27 more years.
This summer MSGT Lester B Cook(ret) was inducted into The Ranger Hall of Fame at Fort Benning, Georgia.  "I won't be there because my wife broke her leg and can't travel," he said. "But they said they'll come and deliver (the award) to me out at Camp Dodge in July."  Lester was asked by David Williams (President of Descendants of WWII Rangers. Org.) why after all those years refusing to accept the honor did he agree to accept the RHOF induction?  Lester replied "David, I am the only one left."
Sadly, Ranger Lester B Cook experienced a stroke and died 9 August 2020.  His Lord and his  beloved Rangers will be there to welcome him home.
There is legislation making its way through Congress that would decorate all of the WWII Army Rangers. The United States Army Rangers Veterans of World War II Congressional Gold Medal Act passed the US Senate unanimously in March. Now pending in the House of Representatives, H.R. 5002 hopefully should pass later this year, paving the way for a medal presentation to the WWII Rangers sometime in 2021.  Lester and his Ranger buddies will be there in spirit watching from above when all WWII Rangers receive their long overdue recognition.
Interview With Lester Cook
Gallery