Ranger

William Loring Newnan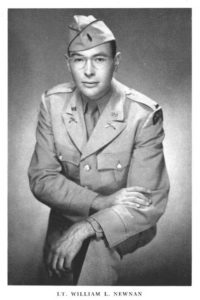 William Loring Newnan
Born: 22 October 1917 in Detroit, Michigan
Died:  31 May 2009 in Grosse Pointe, Michigan at age 91
Army Serial Number:  O-1307845
Ranger Battalion/Company:  3B
Rank: 1 LT
Enlisted:  24 April 1942 in Detroit, Michigan
Battles/Campaigns/Significants:  Anzio/ Battle for Cisterna
Medals/Awards:  Combat Infantryman Badge, Bronze Star Medal, EAME Campaign Medal, WWII Victory Medal, POW Medal, Presidential Unit Citation
Biography
William Loring Newnan was born in Detroit, Michigan on 22 October 1917. He was the son of Henry Loring Newnan and Margaret Bosson. He grew up with three siblings. His dad, Henry was an insurance company executive. William, Henry Jr, Terrill and Margaret all finished high school and attended college. William received an B.A. in history and was a member of Sigma Phi at the University of Michigan. He was also the Michigan Daily Advertising Manager.
Bill enlisted in the Army on 24 April 1942 in Detroit, Michigan. He was working at the Detroit Insurance Agency with his dad when he filled out his draft Card. He was described as 5'10 ½" and weighted 145 lbs., brown hair and eyes. He was living in Grosse Pointe Farms, Wayne, Michigan. Bill was an enlisted man from his enlistment in April of 1942 until his promotion to 2nd Lieutenant on 12 January 1943. After 4 months Bill was promoted to 1st Lieutenant on 19 April 1943. He volunteered and joined the 3rd Ranger Battalion and was on the December 1943 officers roster. He was assigned to B Company as a platoon leader.
During the Battle of Cisterna the CO of Baker 3 LT William Musgades was wounded and 1st LT Louis M Harper was killed in action. LT Newnan was now the commanding officer of Baker 3 company and he promptly took charge had his men return fire. T/5 James O'Reilly saw a flak wagon try to move to a new position. A Ranger 60-mm mortar landed in the vehicle and blew it and its contents apart. Baker 3 moved forward about 100 yards, three German tanks and troop-carrying half-tracks came up about 30 feet from the canal ditch in which many 3rd Battalion Rangers had taken cover. These were eventually destroyed.
O'Reilly made two attempts to throw a sticky bomb into the gun platform of a flak wagon. His second attempt was successful. He felt the Rangers knew they were surrounded but hoped they could hold out until help arrived. He saw a young Ranger mortar crew member hand his ammo to someone else and fall face down in the ditch full half full of water. His friend lifted him up but he was dead either from exhaustion or a bullet.
Lt Newnan was seemingly everywhere. His carbine was shot out of his hand but he drew him .45-caliber pistol and continued to lead his men on the attack. O'Reilly said of Newnan," He was a little fellow with big thick glasses, but boy he loved a fight…..He never would send his men where he wouldn't go. There never was a place, however hot, that he would hesitate at going. That's the kind of guy he was."
The battle kept raging and The 4th Rangers desperately tried to reach the 1st and 3rd Ranger Battalions. They were outnumbered and they ran out of ammo. LT Newnan and his Baker company eventually had no choice but surrender. They were among the other 3rd Rangers and 1st Rangers that became POW's. Ranger Newnan made up his mind early that he had to escape before they were sent by train to Germany. He made his move after about 9 days in captivity and spent the next 3 months evading capture and trying to get to Rome. He later wrote a book entitled "Escape In Italy." The book is a very detailed short story about what he encountered while on the run from the Germans. I will post that book in the files section. It was transcribed from a recording he made while visiting his family one night in 1945 when it was fresh in his mind.
LT Newnan eventually got back to the American Lines and was flown to Algers. His paper said he was to fly to Oran. He had lunch in Oran, had dinner in Casablanca, went to see "Captains Courageous" the next afternoon in Belfast, Ireland, and arrived in New York at 2 o'clock the next afternoon. He was stationed at Fort Benning, GA. He remained in the service until 9 November 1945. He became active again in Infantry as a LT 15 May 1946 to 25 September 1950. In 1951 he retired his commission as a 1st Lieutenant.
Bill returned to Grosse Point, Michigan and followed in his father's footsteps and became an insurance company executive. He married Miss Esther McGraw Palmer on September 3, 1947. He lost both parents in 1955. He and Esther raised a family in Grosse Pointe. Their daughter, Loring Munro Newnan was born in 1949. Bill lived a long life and died on May 31, 2009 at the age of 91.