Ranger

William D Moody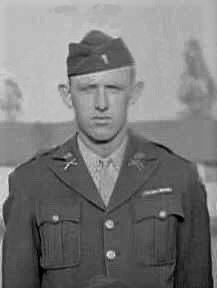 William D Moody
Born: 11 November 1919 in Kingsport, Tennessee
Died: 6 June 1944 at Point de la Percee, France
Army Serial Number:  O-1300357
Ranger Battalion/Company:  2C
Rank:  1 LT
Enlisted:  7 April 1942 at Ft Oglethorpe, Georgia
Battles/Campaigns/Significants:  D Day Normandy Invasion
Medals/Awards:  Purple Heart Medal, Distinguished Service Cross
Biography
William D Moody was the son of Neal C Moody and Nannie Elvira Dillow. He was born on 11 November 1919 in Kingsport, Tennessee. Bill would lose two of his siblings early in life. His mother, Nannie died in 1939 after being ill for many years. Bill attended Glade Springs High School in Glade Springs, Virginia for several years.
He joined the military in 1939 and was stationed in Hawaii as a member of M Company 19th Infantry. His brother, Robert Neal Moody was also stationed in Hawaii in the Navy. Bill spent over three years in Hawaii. When the Japanese attacked Pearl Harbor on 7 December 1941, Bill's brother, Robert was reported missing after the attack but he was later located alive and safe. After WWII broke out Bill enlisted for active duty on 7 April 1942 at Fort Oglethorpe, Georgia.
At some point 2nd Lt Moody became friends with 2nd LT Sidney Salomon while in the 100th Infantry Division, nicknamed "The Century Division." in Fort Knox, Kentucky. Bill Moody, Sidney Salomon, Richard Merrill, Gerald Heaney and sixty-eight enlisted men from the 100th Infantry volunteered and transferred into the 2nd Ranger Battalion that had been created at Camp Forrest, Tennessee. Another officer and most of the enlisted men from the 100th would not stay thru the rigorous training. Bill and Sid were assigned to 2nd Ranger Battalion C Company as platoon leaders.
LT Moody and other 2nd Rangers would go thru a series of intense training. They left Camp Forrest and were at Fort Pierce, Florida September 4-15, 1943 for Scouts and Raiders School. September 16-October 21 1943 was spent at Fort Dix, New Jersey. While Bill was at Fort Dix, he was granted a 5 day leave on 11 Oct and returned to duty on 15 October. On 21 October, 1943 the men were sent by a truck convoy to The Military Intelligence Training Center at Camp Ritchie, Maryland. This was the last test for the men before they went overseas. They would put every free climbing skill to use as they climbed a cliff-like 2,000-foot slope and were met by men in German uniforms. After the maneuvers they also got the opportunity of using and becoming familiar with the German firearms. It was cold that day, but after a hot meal and the satisfaction of a successful experience behind them, the men built great campfires and gathered round breaking into song.
Bill and the Rangers returned to Fort Dix early in November 1943. Ranger Moody was promoted to 1st Lieutenant 4 November 1943. It was off to Camp Shanks by train on 11 November to prepare for embarking on the retrofitted Queen Elizabeth on 23 November 1943. The men were loaded down with all of their equipment as they boarded the ship. Earlier the men were instructed to remove any patches or any indication that they were Rangers. Ranger Moody was sick in quarters on 23 November after boarding the Queen Elizabeth. On 1 December 1943 "Lizzie" pulled into the harbor of Greenock, Scotland. The men boarded a train enroute for Bude Cornwall, England. The men were billeted with families in private homes. Bill was still sick thru December and on Christmas day 1943 he was transferred to the 110th Station Hospital in Barnstable, England. Bill was fit and ready for duty on 30 December and returned to Bude. In February Bill was sent to London on detached service for 6 days. Bill also was sent to Guisborough, York on 29 February on detached service. He was back on regular duty at Bude on the 16th of March. A couple of days later he was granted a 5-day leave.
Early in April the men were sent to Braunton Camp, N Devon for assault training. The commando trainers would be tough during the intense training. On 9 April D, E and F companies boarded a train to Swanage to get them prepared for the climb up the cliffs at Point du Hoc. Bill and Rangers of A, B and C companies moved to Dorchester on 27 April. They would participate in a pre-invasion amphibious exercise code-named Fabius I. 2nd and 5th Rangers would participate in the exercise.
On 3 June 1944 the men of the 2nd Ranger Battalion left staging area D-5. They were loaded into trucks and broke out singing on their way down to the sea in Weymouth. The LCAs were waiting at the dock to take the Rangers to their designated ships for the journey to Normandy. A, B, C and some of HQ company boarded the ship Prince Charles.
On 5 June 1944 the Battalion sailed out for war. Father Lacy held an all faiths Prayer service. "Tonight, I want you all to pray--but tomorrow I will do the praying for you. What you will be doing is a prayer in itself, and you won't have time to spend on your knees.
B Force consisted of Charlie Company commanded by Captain Ralph E Goranson with LT Bill Moody as 1st Platoon leader. They were in LCA 418. LT Sid Salomon and his 2nd Platoon were in LCA 1038. German machine guns, mortars and artillery tore into LCA 418 as Captain Goranson and LT Moody with his 1st Platoon escaped the craft. Many men had to climb over the side into the water to escape being blown up. The Rangers struggled thru the freezing sea water and got bogged down by the soft wet sand. Many fell beneath the machine gun firing directly into the boat but the men kept moving. LT Salomon was hit with shrapnel and when they reached the base of the cliffs at Point de la Precee medic Robert Lambert dug out the shrapnel from his back and applied sulfa powder. LT Salomon joined his remaining 9 men of 2nd Platoon to climb the 90 ft cliff.
C Company went to plan B because the 29th Division units had not broken thru so Charlie Company scraped plan A. SGT Richard Garrett, SGT Julius Belcher and PFC Otto Stephens went along the beach until they found a crevice in the cliff face. Stephens led the way pulling himself up by driving his bayonet into the cliff face. At the top of the cliff, he secured a rope which others could climb. LT Moody followed and at approximately 7 AM reached the top with Stephens. The two Rangers drew fire from a fortified house, but moved along the cliff top, with Moody shouting down instructions to Goranson and the remainder of the Rangers. They carried lengths of rope approximately 10 ft long with a loop in one end and a cross bar on the other. Moody and Stephens fastened some of these at the top of the cliff and with toggle ropes attached they lowered them for C Company men to climb the cliff. No unit has a better claim to being first on the high ground on Omaha Beach than C Company of the 2nd Ranger Battalion.
On the top of the cliff, LT Moody and Salomon shared a shell hole while peering over the rim to examine the trench system to their front. As the two men lifted their heads above the hole, LT Bill Moody was killed by a German bullet and fell against Salomon's shoulder.
1st Lieutenant William D Moody died at Point de la Precee, France on 6 June 1944 along with many of his Ranger comrades of C Company 2nd Ranger Battalion. He was only 24 years old. He would later be laid to rest in his home state of Tennessee at The Knoxville National Cemetery on 19 December 1947. He received The Distinguished Service Cross and The Purple Heart. He was survived by his father, Neal C Moody, a brother, Robert N Moody and a sister, Thelma A (Moody)Wagner. Rest in Peace Ranger Bill Moody.
excerpts taken from "The Battalion" by Col Robert W Black.