Ranger

William B. Belt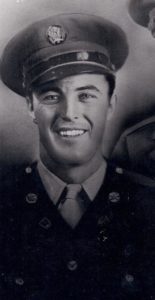 Born: 17 July 1920, Leonard, Shelby County, Missouri, USA
Died: 28 March 1945, Kirschberg near Aachen, Germany
Army Serial Number: 37745729
Ranger Battalion/Company: 2F
Rank: Pfc
Enlisted: 9 June 1944
Battles/Campaigns/Significants:
Medals/Awards:
Obituary
MACON CHRONICLE-HERALD, Macon, Missouri, Saturday, Apr. 7, 1945
WM. B. BELT KILLED IN ACTION IN GERMANY
-MEMBER OF RANGER GROUP KILLED MAR. 28,
BROTHER BYRON BELT MISSING.
Pfc. William B. Belt, 25, son of Mr. & Mrs. Roy Belt, 1040 Rubey St., was killed in action in Germany, Mar. 28, according to a telegram received late yesterday afternoon by his wife, Mrs. Norene A. Belt of north of Clarence. The official message from the war department stated that futher details were not available.
Billy, who attended Macon High School, entered the service one year ago, left the U.S. in November and had been serving with the Rangers in Germany for several months.
His brother, Staff Sgt. Byron R. Belt, has been missing in action in Germany since Feb. 24.
MACON CHRONICLE-HERALD, Macon, Missouri, Tuesday, Apr. 27, 1948
DOUBLE FUNERAL TOMORROW FOR TWO BELT BROTHERS
-BYRON AND WILLIAM KILLED IN ACTION IN WW II
Funeral services for S/Sgt. Byron Belt, who was killed in Germany on Feb. 23, 1945, and for his brother, Pfc. William B. Belt, who was killed in action, near Aachen, Germany on Mar. 28, 1945, will be held at 2:30 o'clock tomorrow afternoon at the Macon Christian Church conducted by the Rev. J. L. Shoemaker of Shelbina. Burial will be in the Woodlawn Cemetery.
Both bodies arrived in New York the last week of March aboard the Robert F. Burns transport and were then sent to Kansas City. They arrived in Macon yesterday and were taken to the Stephens & Goodding Funeral Home where they will remain until one o'clock tomorrow afternoon.
The Albion E. Robison Post No. 29, American Legion, will be in charge of the burial.
Byron graduated from Macon High School with the Class of 1939. He entered the service on Aug. 1, 1941 and went overseas Dec. 1, 1943. He was reported missing in action Feb. 24, 1945, and it was not until July of that year that Mr. & Mrs. Belt learned of his death through a letter written by Ray Hogan to his parents, Mr. & Mrs. James Hogan.
Ray told his parents that he had been standing near Byron when he (Byron) had been struck by an artillery shell.
Billy, who entered the service on July 9, 1944, was killed on Mar. 28, 1945. Mr. & Mrs. Belt received a letter shortly therafter from Lt. John W. Henderson, Jr. relating that Billy was the first soldier lost after the platoon crossed the Rhine river, and that his loss was greatly felt among the remainder of the troops.
He said Billy was hit in the head and died instantly.
The Belt brothers are survived by their parents, Mr. & Mrs. Roy Belt; and two sisters, Frances and Imogene, all of Macon.
Billy is also survived by two children, Trudy and Larry, who are now living in California.