Ranger

William Arimond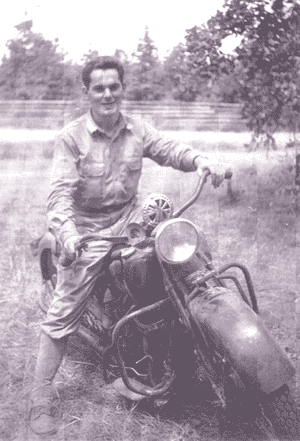 Born: 3 April 1919, St. Louis, Minnesota
Died: 16 August 2006, Hennepin, Minnesota
Army Serial Number: 20712931
Ranger Battalion/Company: 1B/3D
Rank: Sgt
Enlisted: 10 February 1941, Duluth Minnesota
Battles/Campaigns/Significants:
Medals/Awards:
Ranger Arimond was from Duluth, Minnesota. He was part of the original 125th Field Artillery regiment which left Duluth, Minnesota in March 1941. They shipped out to Scotland and were there when Darby went looking for volunteers for the newly formed Special Operations unit known as the "Rangers". He trained at Achnacarry, Scotland and participated in the early US activity in World War II in Operation Torch, the invasion of North Africa.
The many successes of the Original 1st Ranger Battalion in North Africa resulted in the formation of two more Ranger Battalions that were trained at Nemours, North Africa. Ranger Arimond was reassigned to the 3rd Ranger Battalion when this occurred and went on into Sicily and Italy under the 3rd Battalion Co "B".
The article below tells of his fate after the invasion of Anzio and Cisterna, Italy. At the time this article was written, his family was unaware that he had been taken as a POW with many other Rangers who survived this event in Ranger history.
Ranger Arimond is currently the Vice-president of the RBA (2002-2003) and is very active with the local Rangers in the Minneapolis/St. Paul area.
Honored by dear friend Micky Axton
Obituary
William Edward Arimond, 87, died Aug. 15 in his home. Bill was born in Duluth on April 3, 1919. He graduated from Denfeld High School and joined the National Guard in anticipation of the war. He volunteered for the first Army Ranger battalion; during training in Scotland in 1942, he formed a lifelong attachment to that country. He served in the 1st and 3rd Ranger battalions, fought in North Africa, Sicily, and Italy, and was a POW in Germany for the last 15 months of World War II. Bill was an accomplished violinist and managed to carry a violin and entertain his comrades through early campaigns. Upon his return he attended the Dunwoody Institute and became a machinist. He married Jennie in 1949; they settled in Hopkins where they shared love and much humor, and raised six kids. His children remember eagerly waiting each spring for the first ride on the tandem bike with their dad, and falling asleep to the sound of his violin. He loved the State Fair, the North Shore, and tinkering in his basement shop. He lost Jennie too soon, in 1982. In his later years he enjoyed reconnecting with his Ranger comrades at reunions, including his last at Lake Okoboji in May 2006. During his last years his dear friend Micky Axton brought him much joy. He was preceded in death by his wife, Eugenia (Jennie) L. Arimond (Marincel); his son, Peter; his parents, George V. and Margaret E. Arimond; his sister, Kathryn Blankush; and his brother, Raymond Arimond. Bill is survived by five children, Lucy Arimond, Bridget Arimond and Bruce Scheff and their children Laura and Brian, Bill Arimond and Mary Zeleny Arimond and their son Gabriel, Mary Arimond and Ken Simler and their son Andrew, and John Arimond and Amy Gilman and their daughter Corina, and by his brother, Father Vincent Arimond, and sisters Margaret Bujold and Francis Pinther. VISITATION: 5 to 8 p.m. Sunday, in the Washburn-McReavy-Strobeck-Johnson Funeral Home in Hopkins. Funeral Servicesat the same location Monday at 10 a.m. with burial at Fort Snelling at 11:45. Luncheon follows at the Hopkins VFW on Shady Oak Road.
March 2003