Ranger

Thomas Sullivan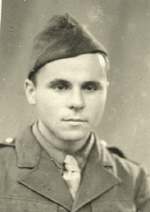 Born:
Died:
Army Serial Number:
Ranger Battalion/Company:
Rank:
Enlisted:
Battles/Campaigns/Significants:
Medals/Awards:
Ranger Sullivan entered the service from Rhode Island. He was one of the Original 1st Battalion Rangers who trained at Achnacarry, Scotland. The above photo was taken while with the 1st Battalion in North Africa. The photo to the left is the last photo Ranger Sullivan sent home in August 1943. This was taken prior to the landings at Salerno, Italy while he was with the 3rd Battalion. He was a SGT at the time this photo was taken. Sullivan was killed by German 88 fire on the 16 September 1943 in the mountainous heights near Chiunzi Pass above Salerno, while returning from a patrol, which he led in this mountainous region.
"Tommy" is buried in the American Cemetery located at Nettunno, Italy.
Sicily-Rome Cemetery
Plot J Row 13 Grave 41
Photos submitted by
Ranger Sullivan's nephew
Tom Lanagan
August 2002
Gallery