Ranger

Thomas Herring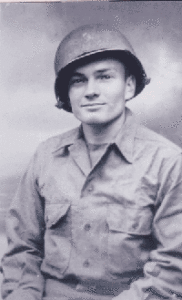 Born: 24 June 1924, Atlanta, Fulton County, Georgia, USA
Died: 30 May 2005, Charlotte, Mecklenburg County, North Carolina, USA
Army Serial Number: 14085673
Ranger Battalion/Company: 5C
Rank: PVT
Enlisted: 25 November 1942, Camp Blanding, Florida
Battles/Campaigns/Significants:
Medals/Awards:
Ranger Hall Of Fame
205 HERRING E. THOMAS Sergeant INDUCTEE 2006 Ranger Tom Herring joined the Army in 1942 and promptly volunteered for and was one of the original Rangers in the 5th Ranger Battalion. On June 6, 1944, he participated in the D-Day invasion and stormed the shores of Omaha Beach, where BG Cota famously commanded, "Rangers Lead the Way!" and the 5th Ranger Battalion spearheaded the breakthrough that enabled the Allies to drive inland from the invasion beaches. Ranger Herring fought through France and Belgium with the 5th Ranger Battalion until he received a medical discharge from the Army. Returning to civilian life, he graduated from the University of Florida with a degree in Civil Engineering and handled international and domestic projects, costing up to $300 million. In 1982, Ranger Herring joined the Ranger Battalions Association of WWII (RBA). He became actively involved in the RBA and other Ranger associations: the US Army Ranger Association (USARA) in 1985 and the Worldwide Army Rangers (WAR) in 2002. Soon his devotion to the Rangers, his energy level, and his organizational abilities led him to volunteer and handle the affairs and responsibilities of Ranger Association offices vacated for any reason.† He freely gave his time, and his leadership. His experience were instrumental in forming the bylaws and policies for the Ranger Memorial Foundation and Ranger Hall Of Fame (RHOF). Ranger Herring led the way on Omaha Beach and was invaluable to the Ranger Associations in peacetime, he is a Ranger to be emulated.
Ranger Thomas E Herring is identified as an Honorary Member of the 75th Ranger Regiment for his outstanding service as a Ranger during World War II as an original member of the 5th Ranger Battalion, and for his dedicated service as National and Chapter Secretary, Ranger Battalions Association, WWII; President and Executive Vice President, U.S. Army Ranger Association.
Ranger Herring joined the 5th Ranger Battalion when it was activated at Camp Forrest, Tennessee, September 1943. He was a Mortar Squad Leader when he hit the beach at Normandy where the motto, "Rangers Lead The Way" originated and fought with the battalion in all of its major campaigns. He was hospitalized in November 1944 and forced to leave the battalion. Ranger Herring was discharged from the Army in February 1945.
Following WWII, like many returning veterans, Tom Herring entered college under the GI Bill. He graduated from the University of Florida as a Graduate Engineer in February 1950. He worked in international construction for 40 years, retiring as an Estimating Manager responsible for major construction projects from $1 million to over $300 million dollars. In his construction career, Herring worked in 38 countries throughout the continents of Europe, Africa, Asia and North America.
Ranger Herring has given his talents and dedication to the Ranger community by serving as Ranger Battalions WWII Chapter Secretary since 1986 and its National Secretary since 1995. During 1988 through 1990, he demonstrated even more outstanding leadership ability while serving as President, U.S. Army Ranger Association. Currently, Ranger Herring serves as Executive Vice President, U.S. Army Ranger Association and is considered to be the wizened mentor of that association's national officers.
Ranger Thomas E. Herring is a living example of the Ranger Creed. His contributions as a young enlisted Ranger who crossed the beaches of Normandy and fought across the continent of Europe in WWII to save the world from tyranny are an indelible part of Ranger heritage and history. Throughout his civilian career and through his leadership positions in two Ranger associations, most especially his assistance in revitalizing the U.S. Army Ranger Association, he has distinguished himself as a Ranger who has the ability to fight on to the Ranger objective, while never leaving a fallen comrade on the field of battle. His everyday service to these Ranger associations reflect that day on the beach when "Rangers Lead The Way" became a way of life.
Information courtesy: www.ranger.org
posted June 2003
The Sons&Daughters Organization would like to pay tribute by adding a special thank you to Ranger Herring for his dedication and patience in the counsel and support of the newly formed S&D Organization!
To repeat the comments made on his contributions as the wizened mentor of the organization as stated in the next column in regard to the USARA, would be an understatement in what he has done to facilitate the S&D.
Our deepest thanks to you
Ranger Herring!
- RBA S&D