Ranger

Robert Maichen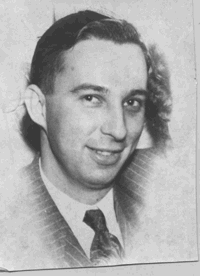 Born:
Died:
Army Serial Number:
Ranger Battalion/Company:
Rank:
Enlisted:
Battles/Campaigns/Significants:
Medals/Awards:
My father, Sgt Robert Maichen, served with Company E, 6th Ranger Infantry Battalion from January 11, 1943 through November 10, 1945. He was a Squad Leader 745 and expert with a BAR. He served in three battles: New Guinea, Leyte Gulf, and Luzon.
Ranger Maichen was awarded:
Bronze Star with V valor and oak leaf cluster
Combat Infantry Badge 1st award
Asiatic-Pacific Campaign Medal with 3 bronze service stars
Good Conduct Medal
WWII Victory Medal
Army of Occupation Medal with Japan clasp
Honorable Service Lapel Button WWII
Ranger Maichen's Bronze Certificate reads:
To: Private First Class Robert J. Maichen United States Army
For heroic achievement in connection with military operations against the enemy in Taytay province, Luzon, Philippine Islands on 28-29 March 1945. During these two nights Private Maichen led a long-range patrol east of Boso Boso River to collect information for an impending attack. To perform the mission it was necessary to feel out and flank numerous enemy outposts and perimeters. He skillfully negotiated enemy lines of fire and land mines to avoid any prolonged fire fight, which was necessary if reconnaissance was to be successful. The patrol collected much valuable information, which resulted in the successful advance of our own forces. The mission was accomplished only by the sheer determination and skill of Private Maichen in the face of constant danger of capture and annihilation.
He never talked about his service in this elite force, he was that type of guy. I, Karen Maichen (daughter), have put together this information for his loving wife, Dorothy Maichen.
We owe a great deal to these guys and gals that gave so much of their lives for their country. They will forever be heroes in our memories and our country's history!
Honored by Loving wife Dorothy Maichen
written by daughter Karen Maichen
May 2003