Ranger

Robert G. Wilking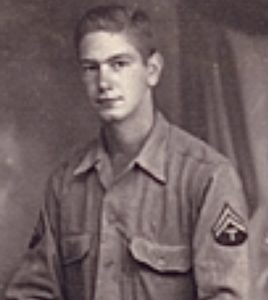 Born: 15 September 1922, Decatur, Illinois
Died: 10 February 2014, Decatur, Illinois
Army Serial Number: 36440365
Ranger Battalion/Company: 1HQ, 4HQ
Rank: PVT
Enlisted: 23 December 1942, Peoria Illinois
Battles/Campaigns/Significants:
Medals/Awards:
Gallery
Obituary
Robert G. "Bob" Wilking, 91, of Decatur passed away on Monday, February 10, 2014.
Funeral services will be at 11:00 am on Saturday, February 15, 2014 at Elwin United Methodist Church in Elwin, IL. Visitation will be from 6 to 8 pm on Friday and from 10 to 11 am on Saturday, also at the church. Burial will be in Mt. Gilead Cemetery with Military Honors provided by the Macon County Honor Guard. Dawson & Wikoff West Wood Street Funeral Home is assisting the family with arrangements.
Mr. Wilking was born September 15, 1922 in rural Decatur, son of Henry and Bessie (Stagner) Wilking. He graduated from Mt. Zion High School in 1940 and worked as a milk tester for the State of Illinois until his induction into the Army in 1942. He served in Darby's Rangers and participated in the invasions of Sicily and Italy before being assigned to the 3rd General Hospital for the remainder of the war. After the war, he worked as a carpenter out of Local 742 until his retirement in 1988. He married Virginia L. Price on July 20, 1947. She preceded him in death in 2003 after 56 years of marriage. Mr. Wilking was a long time member and trustee of Elwin United Methodist Church. He enjoyed spending time with his church family whether serving meals at the Good Samaritan Inn or helping with church benefits. He loved his garden and fruit trees and sharing his produce with friends and neighbors. He enjoyed playing and then coaching baseball and was an avid sports fan. He was a very patient and kind-hearted man who will be missed by many.
Surviving are his children; Linda K. (Terry) Schaefer of Bloomington, IL and Bruce A. (Janet) Wilking of St. Louis, MO; grandchildren Dylan (Leila) Schaefer of Greenville, SC, Daniel Schaefer of Bloomington, IL, and Alex and Kevin Wilking of St. Louis, MO; sister Betty Ann (Charles) Davidson of Dalton City, IL; brother Edward (Esther) Wilking of Decatur, IL; brother-in-law Dale (June) Price of Naples, FL; sisters-in-law Joyce Troxell of Macon, IL, Barbara Wilking of Denver, CO, and Marge Wilking of Denver, CO; and many beloved nieces and nephews .
He was preceded in death by his parents, three brothers William H., Thomas V., and Benjamin B. Wilking, sister-in-law Mary E. Wilking, two brothers-in-law Lyle L. Price and Leon Troxell.