Ranger

Robert A. Butler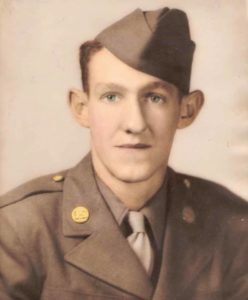 Born: 14 October 1916, McCraken, Kentucky
Died: 29 July 1965
Army Serial Number: 34502973
Ranger Battalion/Company: 1HQ/D
Rank: PVT
Enlisted: 29 December 1942, Ft Oglethorpe, Georgia
Discharged:
Battles/Campaigns/Significants:
Medals/Awards: Combat Infantryman Badge, Bronze Star Medal, Purple Heart
Darby Ranger PVT Robert Allen Butler
Born 14 October 1916
McCraken, KY
He was the son of Frank Butler & Jesse Austin
4 Years of High School, Married to Wilma Brown
Enlisted 29 Dec 1942 at
Ft Oglethorpe, Georgia
ASN 34502973
1st Ranger Battalion HQ & D Company 22 Mar 1944 he was transferred to Patient Detachment 64th General Hospital per Hospital Order.
He may have been transferred to FSSF then 474th but did not find his name in the Forcemen list. May have gone directly to 474th in C Company. He was a PVT according to Headstone. Earned Combat Infantryman Badge, Bronze Star Medal, Purple Heart
Died 29 July 1965 at age 48 and laid to rest in Memphis National Cemetery.