Ranger

Raymond F. Mynhier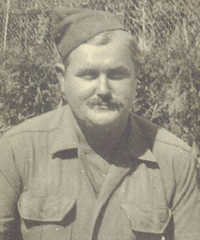 Born:
Died:
Army Serial Number:
Ranger Battalion/Company:
Rank:
Enlisted:
Battles/Campaigns/Significants:
Medals/Awards:
Ranger Raymond F. Mynhier was born on 10 Jan 1917 and died 5 Oct 1961. He was inducted into the service 30 Jan 1942 and was discharged 30 Oct 1945. Before going overseas he went to an Army school for Bakers and Cooks, and was certified as 1st cook, so he was probably used in that capacity along with the many other things he could do. He was a big guy and was selected to man heavy machine guns and mortars when needed. Another job he had was with the pack mules.
He went into Headquarters Company of the 1st Ranger Battalion sometime in North Africa. After the events and eventual breakup of the 1-3-4 Ranger Battalions after Cisterna, Italy, Ranger Mynhier went into the First Special Service Force (FSSF). He was also in Headquarters Co with them, where he was an MP. At the breakup of the FSSF, he was put in Co. 474 and sent to Norway.
Ranger Mynhier's military participation:
Battles and Campaigns: Sicilian, Naples-Foggia, Rome-Arno, Southern France, Rhineland, Central Europe
Ranger Mynhier's Decorations & Citations:
EAME Theater Ribbon W/6 Bronze Stars, American Theater Ribbon, Bronze Arrowhead, Good Conduct Ribbon
Honored by his son:
Charles Mynhier
March 2003