Ranger

Raymond R. Tollefson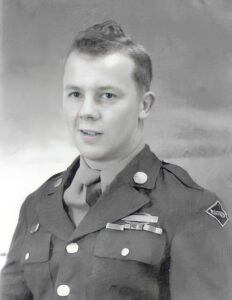 Born: 6 DEC 1924 L'Anse, Baraga, Michigan, USA
Died: 16 SEPTEMBER 2016 Garden City, Wayne, Michigan, USA
Army Serial Number: 36456734
Ranger Battalion/Company: 2HQ/A
Rank: PFC
Enlisted:
Battles/Campaigns/Significants: D-Day - Normandy
Medals/Awards:
Obituary:
Raymond R. Tollefson Age 91, passed away September 16, 2016. Beloved husband of the late Helen (nee Ryan) and Margaret (nee Erspamer). Loving father of Kathy Wiseman, Mike (Manneetta) Erspamer, Barbara Hebert, and the late Karen. Grandfather of Sarah, David, and Matthew. Great-grandfather of six. Brother of Bernice, Leona, Marvin, Phyllis, Rena, and the late Edna and Leslie. Raymond was a member of the 2nd Battalion, A Company U.S. Army Rangers which landed on Omaha Beach on D-Day. Raymond was very happy and proud he was able to return to Normandy for the 70th Anniversary of the D-Day Invasion.
Memories:
I arrived in Bude on 12/1/1943. I stayed at the private home of the Harry Ward family at 21 Killerton Rd. in Bude. Their daughter, Myrtle Ward was 10 years old at the time. She married later in life and became Myrtle Welch and she is still a resident of Bude. I spoke to her by telephone on 5/22/12, as we have stayed in touch all these years.
All the Rangers stayed in private homes. Headquarters was downtown in a garage. It was our daily meeting place. It was also the battalion kitchen (500 in a battalion.) The 1st day in town many men were late for roll call, so no alarm clocks were no longer an excuse for being late. We got a stern warning from 1st Sgt. Edward Sowa, who was killed as he got off our LCA on D-Day. The following morning, everyone found a way to be on time, but 1st Sgt. Sowa who showed up 1 1/2 hours late, he overslept!
After the evening meal I would take whatever I could get from the kitchen, like crackers and cheese, home to the family.
Nightly, on the radio, Big Ben struck 9 times and then we would be gathered with the family by the radio and to listen to news about the war. Often times it was Churchill broadcasting.
There was no central heat in the home, each room had a fireplace. We took coal from the headquarters area and carried it across a golf course because it was a shortcut. We soon discovered that we had taken more coal than we could carry so we would leave it scattered in the golf course to pick up on the next trip. Many of the men did the same thing.
The cliffs in Bude were the 1st cliffs we began climbing, training for the invasion. At 1st we didn't use ropes so we could get used to the height. Later we used ropes at the steeper cliffs east of town, to continue developing our skills in both climbing and descending. Later we went to Swange and Isle of Wight for LCA landings and various other types of climbing equipment.
We enjoyed fish and chips wrapped in newspapers and beer at the local pub. Occasionally they received a shipment of scotch, which didn't have a long shelf life.
We were proud and pleased later in life to know we made life long friends in Bude and never had a derogatory incident while we were there.
By the way, there is a picture of my wife, myself and Myrtle in the museum. We visited Myrtle when we were touring England, and the museum took a picture of us.
I am glad to hear that there will be a statue in Bude. I will be in Normandy that day, so I will not be able to attend the ceremony.
Ray Tollefson, Ranger 2nd Battalion A Company
Approved by daughter Kathy (Tollefson) Wiseman; 29-Aug-2013