Ranger

Albert L. Lange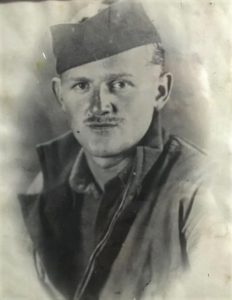 Born: 8 November 1922, Pontiac Michigan
Died: 12 January 2000, White Lake, Oakland County, Michigan, USA
Army Serial Number: 36564074
Ranger Battalion/Company: 1B
Rank: Corporal
Enlisted: 8 December 1941, Fort Wayne, Detroit Mich.
Discharged: 25 November 1945, Fort Sheridan, Chicago, Il.
Battles/Campaigns/Significants: Operation Shingle, Battle of Cisterna
Medals/Awards: Prisoner of War Medal, Bronze Star, WWII Victory Medal, Combat Infantry Badge, Purple Heart, Presidential Unit Citation, European-Middle-Eastern-Africa Medal
Volunteered for Rangers in Bizerte, Tunisia
And trained for a month in Corleone,
Sicily. Captured Cisterna Italy Jan 30th,1944.
Held at Prisoner of War camp 2B then
Liberated after 52 day march in Oglethorpe
On Apr 13th 1945.
Obituary
Son of Carl & Mary (White) Lange. Brother of Herman Lange, Billy Lange, Skip Lange [Dorothy], Betty (Lange) Tear, Shirley (Lange) Koss [Dick] & Helen (Lange) Howland [Elmer]. Preceded in death by his brother Billy, & his brother Herman died the same day he (Albert) died. Married to Melba, 2 children, Sandra (Lange) North & Michael Lange. 3 grandchildren. WWII veteran. Salesman for 30 years for Vernors/Ginger Ale. The Lange & Wilkinson families were lifelong friends.