Ranger

Otis L. Bough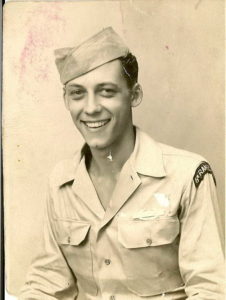 Born: 26 SEPTEMBER 1926 Scotland, Taylor Township, Greene County, Indiana
Died: 15 FEBRUARY 2013 Greenwood, Johnson, Indiana, USA
Army Serial Number: 35965408
Ranger Battalion/Company: 6E
Rank: T/5
Enlisted: 7 October 1944, Cleveland Ohio
Battles/Campaigns/Significants:
Medals/Awards: Asiatic-Pacific Theater Ribbon W/1 Bronze Battle Star, Philippine Liberation Ribbon W/1 Bronze Battle Star, WWII Victory Medal, Good Conduct Medal, Army of Occupation Medal Japan, 2 Overseas Bars, Philippine Republic Presidential Unit Citation Badge
Obituary
Otis Lee Bough, 86, a resident of Martinsville for 53 years, relinquished his earthly life for one filled with eternal joy and peace on Friday, February 15, 2013 at 6:15 a.m. A WWII veteran and devoted Christian, husband and father, Otis spent his final days with his children, family members and friends by his side.
Otis was born in Scotland, Indiana, on September 26, 1926, to Henry and Nellie (Dove) Bough. It was in this rural Greene County community where he first picked up a guitar, beginning a life-long love of singing, music and entertaining. Throughout his life, Otis touched countless lives with his sweet, melodious voice and charming wit, performing at venues such as, the Little Nashville Opry House in Indiana and the Martinsville Area Senior Center with the "Tune Tossers"; as well as, numerous Central Florida retirement communities.
He graduated high school with the class of 1944 from Scotland, Indiana, and enlisted in the US Army shortly following graduation. He served his country honorably from December 2, 1944 - November 21, 1946 and was a Tec. 5 in Company F 6th Ranger Infantry.
Upon returning from the service, Otis married Mary Ellen (Byrd) Bough from Newberry, Indiana, on December 2, 1946. In 1951 he joined the First Church of the Nazarene and attended Olivette Nazarene College, where he spent time as a singing evangelist in Chicago. In 1959 he moved his family to Martinsville, where he spent the remainder of his life.
Otis worked at Blue Cross & Blue Shield in Indianapolis for approximately 15 years as a building supervisor, retiring in 1988. Following retirement, he worked the summer months as an inspector for Bob Curry & Associates in Indiana and spent his winter months in Frostproof, Florida with his wife, Mary.
He had been attending Zions Hill Baptist Church in Martinsville and was a member of the Martinsville V.F.W. #1257 and a past member of the American Legion Post #230. Otis loved hunting and fishing, in addition to his passion for entertaining audiences. He was a wonderful husband, who was adored by his children and fans. He will be greatly missed and forever remembered as one who lifted the hearts of many through his loving disposition, music and humor.
He is survived by a host of loving family and friends including his three daughters, Nancy (husband, Bill) Fortier of Bloomington, Jane (husband, Joe) Proctor of Brownsburg and Cathy (husband, Roger) Gregg of Elwood; one son, Richard Bough of Martinsville; one brother, Harold Dean Bough of Martinsville; eight grandchildren, Robbie Elliott, Nikki (Elliott) Helton, Crystal (Bough) Atkins, Ricky Bough, Wendy (Wolfla) Pigors, Ryan Wolfla and Noah & Jeremiah Gregg; 4 step grandchildren; 13 great grandchildren and 7 step great grandchildren.
He was preceded in death by parents; wife, Mary Ellen Bough on April 15, 2011; brother, Raymond Bough; sister, Betty Minks and one great granddaughter, Mariah Elliott.
Family and friends will celebrate his life and the happiness he brought to others during services at Neal & Summers Funeral and Cremation Center in Martinsville with a visitation on Monday, February 18th from 4-8:00 p.m. and on Tuesday, February 19th from 10-11 a.m. and a service on Tues., Feb. 19th at 11:00 a.m. Burial with military graveside honors will follow in New South Park Cemetery in Martinsville.