Ranger

Maurice Jackson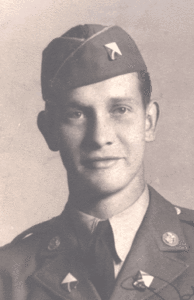 Born:
Died:
Army Serial Number:
Ranger Battalion/Company:
Rank:
Enlisted:
Battles/Campaigns/Significants:
Medals/Awards:
As shared by his daughter, Lynn Jackson Towne:
My Dad arrived at Headquarters, Second Battalion sometime during the first week following D-Day, June 6, 1944 , as best we can figure. Dad was not with Headquarters very long when he was transferred to Company "E", replacing lst Platoon Leader Lt. Lapres who had been wounded and eventually lost his left leg.
Typical of WWII Veterans, my Dad passed away October 6, 1989 telling us very little of his days as a Ranger. My family has relied on the memories of Men of Company "E" to fill in the missing pieces. They have, and continue to share these memories with me for which I am very grateful.
Because of these men, we know it was lightly snowing the morning of December 7th, 1944 , at the start of the Battle of Hill 400, when my Dad was hit by a mortar, eventually losing his left leg below the knee. Dad never complained about losing his leg, instead taught us through his own example that there wasn't anything we couldn't accomplish if we were willing to put in the time and energy to do it. He taught us respect for our elders, our military, our country and our Flag. He instilled in us pride through accomplishment, and confidence in our abilities.
Photo and narrative submitted by Ranger Jackson's daughter
Lynn Jackson Towne
February 2003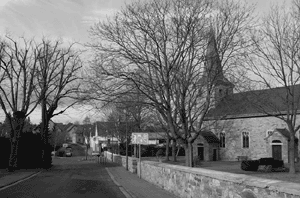 This church in Bergstein, Germany was made into a makeshift aid station where many of the wounded Rangers were taken during the Battle for Hill 400. Ranger Jackson, pictured above, was taken to this church after he lost his leg in December 1944.