Ranger

Marvin E. Kness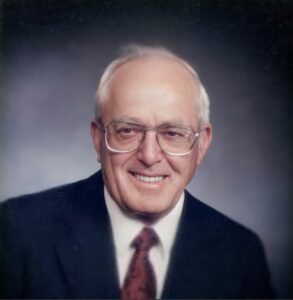 Born: 3 April 1922, Audubon, Iowa
Died: 6 October 2018, Albia, Iowa
Army Serial Number: 20707252, 02055098 (officer)
Ranger Battalion/Company: 1E, 4B, 4D,
Rank: 2LT
Enlisted: 10 February 1941, Audubon, Iowa
Discharged: 23 November 1945
Battles/Campaigns/Significants:
Medals/Awards:
Obituary
Marvin "Mike" Eugene Kness, age 96, of Albia, passed away on October 6, 2018, at the Monroe County Hospital in Albia, surrounded by his loved ones.
Marvin was born on April 3, 1922 to A.E. and Bessie (Anderson) Kness in Audubon County, Iowa. He grew up and attended the Audubon High School graduating in 1941. After high school, Marvin joined the United States Army and was a member of the 1st and 4th Army Ranger Battalions and served his country during World War II in North Africa and Italy. He was very proud of his military service. On August 12, 1944 he was united in marriage to Phyllis Kauffman in Macon, Georgia. To this union 5 children were born, Kenneth, Julie, Jo, Kerry and Kevin. They shared over 45 years of marriage together until Phyllis's passing on January 11, 1990. On February 12, 1992 Marvin married Marilyn Wimer-Mitchell in Florida.
Upon returning home in 1945, he moved to Albia with his father and brothers and started Kness Manufacturing where he worked until retiring in 1985. He was a member of the American Legion and the Masonic Lodge. Marvin was a past member of the Albia Community School Board and served as President. He was inducted into the Albia Hall of Fame in 1991. He enjoyed golfing, hunting, fishing, and being outdoors. Above all, he enjoyed spending time with his family and friends.
Marvin is survived by his wife, Marilyn Kness of Albia; his children, Kenneth (Merrilyn) Kness of Sun City West, AZ, Julie Stafford of Albia, Jo (Ray) VanderVelden of Indianola, IA, Kerry (Rhonda) Kness of Norwalk, IA, and Kevin (Rhonda) Kness of Albia; his step-daughters, Marilee (Mike) Scieszinski of Albia and Marianne (Phil) Crall of Des Moines, IA. 19 grandchildren, 32 great grandchildren and 4 great-great grandchildren. Marvin is also survived by many nieces and nephews.
He is preceded in death by his parents, A.E. and Bessie Kness, his first wife, Phyllis Kness, his siblings, Nona Brown, Vera Alpers, Lester Kness, Wilma Nace, and Arnold Kness and two son-in-laws, Thomas Stafford and Jerry Archibald.
Article
Marvin "Mike" Kness, Reported for Final Roll Call
WWII Veteran, 34 th ID Soldier and Army Ranger, Marvin "Mike" E. Kness, died on 6 Oct 2018, at Albia IA. He was mobilized with his older brother, Lester E. Kness, on 10 Feb 1941, as part of 2nd Bn, 168th Infantry, Iowa National Guard, 34th Infantry Division, Audubon, IA. Cpl. Marvin "Mike" Kness, the younger brother of Lester, was a senior in high school in Audobon, IA when he was mobilized with the 34th Infantry Division.
The brothers trained at Camp Claiborne, LA with the 34th Infantry Division, and deployed to North Ireland where both of them later joined the British Commandos. The Kness brothers were incorporated into the U.S. Army Ranger battalions, and served throughout the war, for a time, directly under COL William O. Darby. They participated in action in North Africa, Sicily, and Italy.
On a special note, S/Sgt Lester Kness served in No 4 Troop, British Commandos, in the ill-fated British Army Dieppe Amphibious Raid in France, on 19 Aug 1942, along with at least fifty-one other U.S. Army soldiers, who were mostly recruited from the 34th Infantry Division. Later, Lester Kness was commissioned as an officer and served as Platoon Leader of E Co, 1st Ranger Bn, and then Commander of Co A, 4th Ranger Bn. Lester was severely wounded in battle at Cappogna, Italy and was evacuated to the U.S. for recovery, and later medical discharge from the Army. Lester Kness was inducted into the US Ranger Hall of Fame in 2002 and died in 2012.
Both Marvin and Lester Kness are shown as members of the first roster of the U.S. Army
Rangers, 1st Battalion, later known as Darby's Rangers. Marvin "Mike" and his brother Lester ended up in different companies but fought in the same campaigns, initially with the 1st Battalion then with the 4th Battalion in Italy.
Military service was a family ambition. Marvin and Lester had two cousins who were also
mobilized with the 34th Inf Div on 10 Feb 1941. They were, William J. Kness, who served in Anti Tank Co, 168th Inf , 34th ID, Jefferson, IA and Bradley Kness, who served in Co I, 133rd Inf, 34th ID, Sheldon, IA.
The Kness boys were real fighters, they were both wounded in combat and lived long lives after the war. Their stories are legendary!
Marvin "Mike" E. Kness & Lester E. Kness