Ranger

Lee Junior Taylor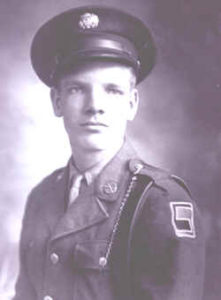 Born:
Died:
Army Serial Number:
Ranger Battalion/Company:
Rank:
Enlisted:
Battles/Campaigns/Significants:
Medals/Awards:
PFC Lee J. Taylor, 35 801 707, 2nd Bn Ranger Inf. is my mother's brother and would have been my uncle had he not been killed in action 12/07/44 in Bergstein, Germany. No records of Lee's military service with the 2nd Rangers have been found, other than the documentation found on www.RangerRoster.org
Does anyone remember Lee J. Taylor as a member of the 2nd Ranger Battalion?. All family records were destroyed by a fire years ago but we do have a picture of Lee in uniform. His shoulder patch is of the 69th Infantry where he did basic training.
There is a newspaper obituary from July 1949 when Lee's body was returned home. It states that he joined the Army May 14, 1943, was a 2nd Ranger, took part in the D-Day invasion of France, and was killed in action in Germany December 7, 1944. Any assistance anyone can provide will be greatly appreciated.
If you have any information about Ranger Taylor, please contact me:
Elkingding@aol.com
Edward Lee King
Nephew of Ranger "Junior" Taylor
Honored by nephew Edward Lee King
November 2003