Ranger

Kenneth J. Place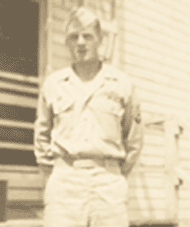 Born:
Died:
Army Serial Number: 32910208
Ranger Battalion/Company: 1/C
Rank: T/5
Enlisted:
Battles/Campaigns/Significants:
Medals/Awards:
From 1943 to 1945, Ranger Place fought in Naples, Foggia, Rome, Arno, and Central Europe. His battalion went behind the lines at Cisterna, Italy where German paratroopers closed in on them and he was captured. As a result of this capture, he spent the next 15 months as a POW at Stalag VllA, Stalag IIB, and Stalag IIIB Below is a copy of his POW ID from Stalag IIB.
While growing up, Dad never talked much about the war and since he passed away in 1989, I've set out to find out what he went through and if anyone out remembers him, or spent time in the POW camps with him.
Please contact me at:
bobski1@optonline.net
Thanks...Bob Place
Honored by Bob Place
January 2003
Gallery