Ranger

Ken Barker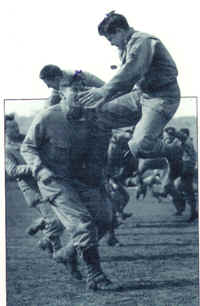 Born:
Died:
Army Serial Number:
Ranger Battalion/Company:
Rank:
Enlisted:
Battles/Campaigns/Significants:
Medals/Awards:
Ranger Barker was one of approximately 65 surviving men of the 270 involved in targeting Pointe du Hoc on D-day. Although this was a harrowing ordeal, it was only the beginning for him.
On June 27, 1944, Ken was captured when he and twelve others were separated from their company and stepped out into a group of Germans. Being surrounded and greatly outnumbered, he stood in disbelief as they were forced to surrender. The Germans marched them through town after town, parading the Rangers to interrogation stations, so the local leaders could brag about their capture. After losing 70 pounds as a POW, Ken and a friend, Andy Anderson, began to plan an escape.
On November 1, 1944, Ken and Andy made that escape, but were spotted by German guards who started shooting at them. Ken and Andy did escape, but only after being severely wounded. Although Ken had been shot several times, Andy was much worse. So, with shrapnel in his knees, Ken carried and nursed Andy for three days before they were finally spotted by members of the 116th Battalion. Shortly after reaching friendly troops and a medic, Andy succumbed to his wounds and died in Ken's arms, leaving Ken alone to revel in his escape, but live a lifetime mourning the tragic loss of his friend.
Honored by Sherry Klein
January 2003