Ranger

John W. White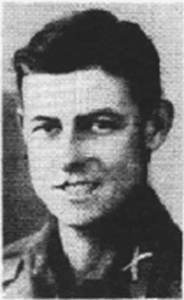 Born:
Died:
Army Serial Number:
Ranger Battalion/Company:
Rank:
Enlisted:
Battles/Campaigns/Significants:
Medals/Awards:
Lt John W. White DSC Recipient
From Article dated June 12, 1954 - Boston Globe
On D-day, John W. White of South Street, Jamaica Plains, Massachusetts leaped from the landing craft coming onto Omaha Beach on H-Hour, and looked around for his buddies. White, who was awarded the Distinguished Service Cross for valor on that fateful day was then platoon sergeant of Co. A, 2nd Rangers, commanded by Ltc. James E. Rudder. "Quite a few men got hit as soon as the ramp went down," White recalls. "Men died right in the water."
With less than half of the company reaching the shelter of the sea wall. White added that the other survivors realized that they had to get off the beach and onto high ground. "We could not do anything until we got to the top of the hill. It didn't take long for them to realize that." White recalls. "We crossed about 30 yards of sand and about 15 yards of shale. There were wrecked houses nearby, probably beach villas. "We decided to get into the shelter of those houses as quickly as possible. "It was all pretty confused, of course, and men were scattered in small groups." "I do remember that as our group hit the second house, Germans inside opened fire on us. "Those Germans did not last long, we got them."
While remembering most of the men in his company and the fine work they did, but it was only after considerable probing that White finally admitted taking a group forward, surprising 30 Germans on top of hill overlooking the beach and "getting them" as he fired burst after burst from his machine gun he carried. He was a veteran of five campaigns during WW II, he rates the D-day invasion landing just east of the Vierville draw, as "one of the toughest."
White, a native of Woburn , Mass, trained at Camp Forrest , Tennessee and went overseas with the 2nd Battalion Rangers in October 1943. He was hit by shrapnel at the start of the " Battle of the Bulge." In January 1945, he received a battlefield promotion from top sergeant to second lieutenant while in Germany.
Citation for the Distinguished Service Cross
Technical Sgt John W. White, 31135430, Infantry, United Stated Army. For extraordinary heroism in action from action from 6 - 8 June 1944 at Vierville and Pointe du Hoc, France. When all the officers of his company became casualties in the initial landing on the coast of France from the devastating enemy fire, he assumed command of machine gun positions and directed fire on the enemy positions. Later he personally acted as the point of the column while advancing from the beach to Pointe du Hoc. On this advance, Sgt White exposed himself to the direct rifle and machine gun fire of the enemy, as well as sniper fire. Technical Sgt White's excellent leadership and gallantry under such difficult and hazardous circumstances is in keeping with the highest traditions of the service. Entered military service from Massachusetts.
Photo and story courtesy, Bill Payne, nephew of John W. White
paynebillp@aol.com
October 2003