Ranger

John K. O'Brien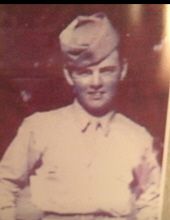 Born: 8 January 1925, Big Bend, Rusk, Wisconsin, USA
Died: 27 May 2019, Big Bend, Rusk, Wisconsin, USA
Army Serial Number: 36811937
Ranger Battalion/Company: 5D
Rank: PFC
Enlisted:
Discharged:
Battles/Campaigns/Significants:
Medals/Awards:
O'Brien, John K. "Kort" Joined his beloved wife Gloria on May 27, 2019 at the age of 94.
Loving father of Dennis (Carol), Patrick (Janice), Catherine Schmidt, Colleen (Chad) Smet, and Daniel (Lori) O'Brien. Brother of Kathleen (Kevin) Krizer, the late David (the late Mary) O'Brien, and the late Patrick (the late Arlene) O'Brien. Also loved by 11 grandchildren, 15 great grandchildren, nieces, nephews other relatives and friends. Kort was a decorated Army Ranger serving in WWII.