Ranger

John J Foley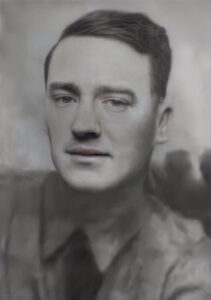 John Joseph Foley
Born: 25 March 1917 in Boston, Massachusetts
Died: 26 November 1962 in Mansfield, Massachusetts
Army Serial Number: 31017758
Ranger Battalion/Company: 1/D & 4
Rank: SSGT
Enlisted: 25 February 1941 in Boston, Massachusetts
Battles/Campaigns/Significants: Arzew Landing in Algeria, Gafsa, Sened Station & El Guettar in Tunisia, Gela, Butera, Sicily, Salerno, Maiori, Chiunzi Pass, Venafro, Anzio Landing Italy
Medals/Awards: CIB, BSM, EAME Campaign Medal, WWII Victory Medal, American Defense Medal, 2 Presidental Unit Citations-El Guettar (WD GO 56, 1944) & Salerno (WD GO 41, 1947)
Biography
John Joseph Foley was born in Boston, Massachusetts 25 March 1917. His father Thomas Frederick Foley came to America from Wigan, England with his Irish parents at age 7. His mother Julia Anne Shea who also had Irish parents came to America from Swansea, South Wales to live with her older sister. John grew up in a household of 8 siblings. A sister, Dorothy May was struck and killed by a truck when she was 8 years old. John's dad had his own sign building business in Boston and Julia stayed at home with the children. John attended grammar school and 2 years of high school. He and his 4 brothers worked outside the home to help support the family. All of the 5 Foley boys followed in their father, Thomas Foley's footsteps and went into the Military to serve in WWII. Thomas volunteered and served in the Philippine American War. He finished his tour as an Army Sergeant.
In 1940 John lived with his sister Mary Foley Junkins in Roxbury, MA. He was working in a restaurant as a chef. John joined the service 25 February 1941 in Boston, Massachusetts. After basic training John was assigned to the 209th Coast Artillery Regiment(Anti-Aircraft) which was a New York National Guard Unit. John did additional training when they moved to Camp Stewart, Georgia in 1941. John was trained as an antiaircraft expert. He was a Section Leader in a Locator Listener Squadron. On 23 April the unit moved to Fort Dix, NJ. The Regiment staged for overseas deployment and set sail from the New York Port of Entry on 11 May 1942. They arrived in Belfast, Ireland on 18 May 1942. An ad in the Belfast newspaper was making a call for volunteers to join and create a specially trained group of soldiers. John and 24 other 209th CA AA soldiers volunteered to join the new Unit which would become the 1st Ranger Battalion which trained with the British Commandoes.
The unit started with about 1500 volunteers and after interviews and physical training trials they only took 500 men. These men became known as "Original Darby Rangers" because of their commander COL William Orlando Darby. The birth of the Ranger unit was 19 June 1942 at Sunnylands Camp near Carrickfergus, Northern Ireland. The Rangers moved to Achnacarry in the Highlands of Scotland. John and his fellow soldiers trained with the British Commandos at Achnacarry Castle the ancestral home of the Camerons of Lochiel.
After grueling exercise, 30 mile speed marches, hand to hand combat, aquatic landings, mountain climbing and doing maneuvers under live ammo the Rangers were transported to North Africa on a British ship and it was their home until November of 1942. The Rangers were involved in Operation Torch. Their first combat in N. Africa was to take the Port of Arzew. D company was set up as a mortar division to give support to their fellow Rangers.
The special training paid off for the Rangers. They worked on the buddy system and also trained to step up into the next job. The Rangers were moved into Algeria and more training. There was a creation of two more Ranger units, the 3rd and 4th Ranger Battalions. They attacked and captured Sened Station and El Guettar. In Sicily, they took the city of Gela and the mountain fortress of Butera(The Eagle's Nest). They made the first landing in Italy at Maiori Beach. They held Chiunzi Pass, defended the Winterline in the mountains of Venafro, and took the beaches of Anzio. The Rangers last operation was to invade and take the City of Cisterna. The Army did not know that the Germans had secretly fortified their troops and equipment. The 1st & 3rd Rangers lead the attack with 4th Rangers to be the backup. Germans surrounded the 1st and 3rd Rangers. The Rangers fought until they ran out of ammo. They had no choice but surrender and be POWs or be shot. The 4th Rangers tried to get thru the lines but were stopped by German Tanks and troops.
John participated in all of the operations mentioned above except Cisterna. Days before Cisterna he had been hospitalized with Malaria. He returned to service and was put in the HQ Company to recover. He had contracted malaria in Sicily like many of the Rangers did. He had been in the hospital after fighting in Venafro.
Ranger Foley was one of 198 Rangers that had over a year in combat so when the 1st and 3rd Rangers were disbanded he was transferred into the 4th Rangers and left Italy 6 April 1944 on the SS Edward Richardson. They arrived at Hampton Roads, VA Port of Entry on 3 May 1944. They were transported to Camp Patrick Henry in Virginia. They stayed there several days and moved to Camp Butner, North Carolina on 6 May 1944. The Rangers that were not hospitalized were granted furloughs. SSGT Foley was granted a 24 day furlough. He was given rostering out money to pay for the trip to Jamaica Plains, Massachusetts. On June 1st while he was on furlough, John was admitted to the Station Hospital at Fort Banks, Massachusetts. Many men were hospitalized after arriving home. They were recovering from wounds, diseases, malnutrition and PTSD. John was discharged on 16 November 1944 while he was in the Lovell General & Convalescent Hospital, Fort Devens, Massachusetts.
John returned to civilian life and probably spent some time visiting his parents and younger sister Geraldine up in Rome, Maine. He was home early and his 3 of his brothers were still fighting WWII. His older brother Tommy had enlisted but had a hand blown off caused by a defective grenade the day before he was to ship out to the South Pacific Theater. John met Matilda Marie Cullerton(Cote) and they were married in 1951. "Hilda" was born in Wisconsin and her family moved to Fall River, Massachusetts. She was the widow of a decorated Boston Policeman, SGT James L. Culleton, who died in 1942. John and Hilda lived at 52 Courtney Road in West Roxbury, Massachusetts for many years.
John worked as a landscaper at the time of his death in Mansfield, Massachusetts. He died at his home on 26 November 1962 when he was 45 years old. John Foley was buried in the Mt. Hope Cemetery in Mattapan, Massachusetts, ironically in the same section as his father's younger brother, John Joseph Foley. John was survived by his wife and 3 stepchildren. Original Darby Ranger Foley was honored with a full military funeral. His wife Hilda lived until 1984 and was buried alongside her first husband at Mount Benedict Cemetery in West Roxbury.