Ranger

John E. Hill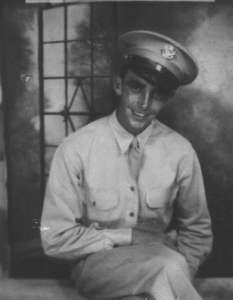 Born:
Died:
Army Serial Number:
Ranger Battalion/Company:
Rank:
Enlisted:
Battles/Campaigns/Significants:
Medals/Awards:
Ranger John Edmond Hill was a scout in the 1st Ranger battalion, Company B. He fought in North Africa, Sicily, and Italy. He was captured at Cisterna during the Anzio Invasion and spent eighteen months in Stalag IIB, near what is now Czarne Poland.
He returned to Poplar Bluff, Missouri after being liberated from the POW camp in 1945. He later married Marcella Monks.
He is survived by his children Danny, Regina, John, and Gregory.
My father was about 6 feet tall and on the slight side. He was a 1st scout and would have carried a machine gun. I think that Archibald McCloud was the 2nd scout. I would love to hear any stories about him if any one would remember or about the experiences.
mailto:lexxor@cox-internet.com
Honored by son, Gregory Hill
January 2005
Gallery