Ranger

James Ray Vance, Jr.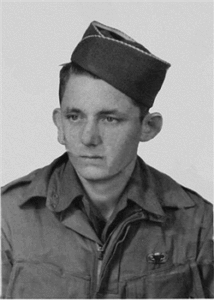 Born:
Died:
Army Serial Number:
Ranger Battalion/Company:
Rank:
Enlisted:
Battles/Campaigns/Significants:
Medals/Awards:
Ranger Vance was a Private First Class and a scout in the 4th Ranger Battalion, "D" Company. He was involved in activities in North Africa, the invasion of Italy, and on into France and Germany.
Ranger Vance came into the Rangers when the 1st Bn was split into thirds to create the 1st, 3rd, and 4th Ranger Battalions in Nemours, North Africa. He later became part of the First Special Service Force (FSSF) after the battalions were disbanded following the events at Cisterna, Italy. He became a paratrooper immediately after basic training, but it is not known how this fits in his history as a Ranger and member of the FSSF. He was trained by the British Commandos at some point and always spoke highly of them. He had the greatest respect for Colonel Darby and the men he fought beside.
He was shot three times over the course of his time as an active duty soldier, in the shoulder, back, and neck. He was wounded on February 22, 1944 and again in Italy on May 23, of the same year. He was awarded three purple hearts for these injuries. He was involved in Casablanca, North Africa, Naples, Foggia, Anzio, Cisterna, Rome, Arno, then on into Southern France with the Normandy invasion, the Battle of the Bulge in the Ardennes Forest on the German/Belgium border, and then into the Rhineland with the invasion of Germany. While with the FSSF, he was part of the French Resistance when Germany occupied France. He often spoke of being in Normandy 18 hours before the Invasion Force arrived at the Invasion of Normandy while in the FSSF. He was eventually separated from his military career at Fort George G. Meade, Maryland in December 31, 1945.
After the war, he worked in the coal mines in West Virginia, became a member of the United Mine Workers of America as a Representative, married Margaret E. Miller, raised 9 children and passed away on September 21, 1988 at the age of 64. He had a rich and full life and was loved by everyone who knew him. His heart and his giving spirit knew no bounds. He was also known for his courage, his inspiration as a leader, and his determination to always do his best.
My family and I believe that he carried the essence of what it means to be a Ranger and what it meant to him, throughout his entire life. I guess you could say he stood out and made a difference in every life he touched.
It was his dream to be part of one of the Ranger Reunions, but he never actually made it to one. I heard the pride in his voice so many times when he spoke of being a Ranger. I believe it was one of the greatest achievements of his life.
I am thankful that the Ranger Memorial exists at Fort Benning where we were fortunate to purchase a stone for him. I know that somehow he is aware of this and is as proud to be a part of the Ranger Memorial, as he was to be a Ranger. I often wish I had listened more carefully to his stories so I could more fully understand the debt we owe not only him, but all men and women who have fought that we may have our freedom.
His battle honors include:
Good Conduct Medal
Three Purple Hearts (one with Bronze Cluster)
European/African/Middle Eastern Service Ribbon
World War II Victory Ribbon
Submitted by his daughter:
Mary E. Vance-Frame
maryvanceus@hotmail.com
February 2004