Ranger

James Hudnell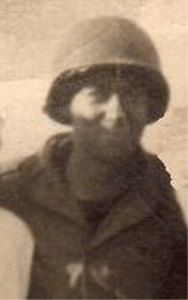 Born: 19 August 1924, Kingtree, South Carolina
Died: 9 December 2007, Roxboro, NC
Army Serial Number: 34761449
Ranger Battalion/Company: 2D
Rank: T/5
Enlisted: 2 March 1943, Fort McPherson, Georgia
Discharged: 2 December 1945, Fort Bragg, NC
Battles/Campaigns/Significants: Normandy, Northern France, Rhineland, Central Europe
Medals/Awards: Purple Heart GO 19 137 GH 44; EAMET Campaign Ribbon with 4 Bronze Service Stars; Good Conduct Medal AR 600-68; Distinguished Unit Badge GO 26; Bronze Arrowhead; Victory Medal; Combat Infantryman Badge; Bronze Star; Marksman 30 Cal Rifle 03, Carbine
Dad only served with "D" Co., 2nd Ranger Battalion for approximately seven months. He joined them in England in March '44 after several members of the 2nd Ranger Battalion were released due to sickness, injuries, and the inability to handle the rigorous training. Dad had gone through some specialized training in the States before going to England (mountain training in West Virginia and underwater training in Norfolk), so he either volunteered, or was volunteered. I have never gotten this part of the story straight.
Dad trained with the 2nd Battalion Rangers until the D-Day invasion, he traveled across the English Channel, and was in the landing craft with his company commander, Duke Slater, when it was swamped in the Channel.
There were some soldiers who drowned (four, I think), the rest were picked up in the Channel and then (due to medical problems suffered from their time in the water) taken back to hospitals in England. Several of the D-Day books mention that the Rangers did not want to miss the action at Pointe Du Hoc by going back to the hospital, but Dad never mentioned this.
He along, with the rest of his Ranger buddies. were returned to France approximately two weeks after D-Day and Dad fought with them until September when he was severely wounded by a German mortar shell. Taken back to England to the hospital again, he had fragments in his stomach, leg and face. The fragments in his leg caused major damage and later turned into gangrene, which took him out of action for several months. When he returned to France, he was reassigned to a Construction Engineer battalion the remaining months of the war.
Ron Hudnell
son of Ranger James Hudnell
submitted September 2002
Obituary
The funeral for James Hugh Hudnell, also known as "Mr. H", 83, of 77 Parkview Cir., who died Sunday, Dec. 9, 2007 at the Roxboro Nursing Center, will be conducted at 3:30 p.m. in the Brooks & White Funeral Home chapel. Burial, with Masonic Rites and U.S. military honors, will be in the Person Memorial Cemetery.
Mr. Hudnell was a native of Williamsburg, S.C., the son of the late Francis Alvin and Marie Wingate Hudnall. His late wife of 59 years was Cathyren Fisher Hudnell.
He was a U.S. Army veteran having served in the D-day invasion with the 2nd Ranger Battalion, earning the Bronze Star and Purple Heart.
He was a lifetime member of the World War II Ranger Battalions Association, the American Legion Post 342 in Nathalie, Va. and the Person Masonic Lodge 113.
His occupation was in the lumber and plywood business, and he worked for several lumber mills in the Southeast, most recently with U.S. Plywood/International Paper in South Boston, Va.
He enjoyed fishing, furniture building, wood carving, bird watching and neighborhood dogs. He was also an avid reader, a builder and a "putterer" constantly trying to make things better.
Surviving are two sons, James Ronald Hudnell of Winston-Salem and Louis Wayne Hudnell of Greenville; a daughter, Carolyn Harper of Raleigh; four brothers; a sister; six grandchildren; and five great-grandchildren.