Ranger

James F. Harris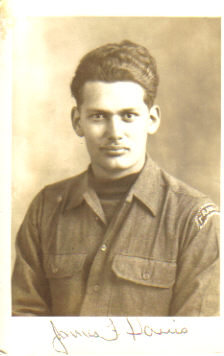 Born:
Died:
Army Serial Number:
Ranger Battalion/Company:
Rank:
Enlisted:
Battles/Campaigns/Significants:
Medals/Awards:
On August 24, 2002, the lord called home a great husband, father, friend. James (Jim) Harris, B Company, 1st Battalion Ranger WWll, who gave up his struggle with health and went home to be with his lord.
Jim volunteered for the Rangers after listening to one of Col. Darby's "call to arms" speeches at Nemours North Africa, May 1943. From that point on Jim was in the thick of the action.
First stop was Gela Sicily, spearheading the allied invasion. After securing the beachhead from German and Italian counter attacks, the next stop was the mountain high citadel of Butera. After Sicily was in safe hands, the Battalion's next mission was to hit the beaches at Maiori Italy and seize the strategic pass at Chiunzi. While there, holding the pass against constant German attacks, they earned their second Presidential Unit Citation. From there Jim found himself in the cold and as Jim would say "Blasted Mountains of Venafro, Italy."
The next adventure was coming ashore with the first waves at Anzio Italy. This stop proved to be a disaster for Darby's 1st and 3rd Battalions, as they were used to expand the allied beachhead. The key objective was the crossroads town of Cisterna. As the men infiltrated through the dark towards their objective, little did they know that their doom was sealed. As the Cisterna disaster unfolded, surrounded and outnumbered by the best German troops in Italy, Jim was captured, as was many of the Rangers' fate. Fortunately, his time under German captivity was short, with Jim dispatching his German guard.
After a few days making his way back to friendly lines, Jim reported for duty and eventually was assigned to Co, 1st Regiment, First Special Service Force. This unit took Jim to new adventures including the invasion of Southern France and eventually to Germany in time to witness the collapse of Hitler
After thirteen years of military service, plus two purple hearts for combat wounds received in WWll, Jim bid farwell to the army and worked for the CSX Railroad till retirement. Never forgeting his love of the Ranger's he always remained active in the Ranger Battalions Association after the war, with approximately 20 years as treasurer of the Ohio Valley Chapter and two years as the National Treasurer.
His wife ,Brenda and children, Allona, Pete, Dan, Tina, David, Scotty, Lydia and niece Debra. His friend Patrick and many others wish to say, "He will never be forgotten and will always be our American Hero."
Submitted July 2005 by friend Patrick
Gallery