Ranger

Hubert A. "Hap" Putney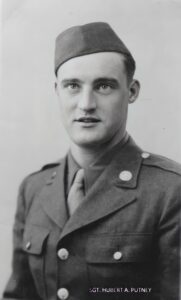 Born: 3 October 1924, Stronghurst, Henderson County, Illinois, USA
Died: 13 September 2009, Norwood, Peoria County, Illinois, USA
Army Serial Number: 36478015
Ranger Battalion/Company: 5A
Rank: SGT
Enlisted: 20 March 1943, Peoria, Illinois
Discharged: 27 October 1945
Battles/Campaigns/Significants: D-Day, Normandy
Medals/Awards: Bronze Star, Purple Heart, Combat Infantry Badge, WWII Victory Medal,
NORWOOD, IL - Hubert "Hap" Putney, 84, of Norwood passed away at 7:17 a.m. Sunday, Sept. 13, 2009, at his home.
Hap was born Oct. 3, 1924, in Stronghurst, Ill., the son of Ernest Franklin and Lois Jeannette Shaw Putney. On Jan. 17, 1943, he married Marjorie June Roloff in Kahoka, Mo.
Hap is survived by his wife of 66 years; two sons, Charles of Bartonville and Hubert of Galesburg; three daughters, Margaret (Howard) Hartley of Rochester, Minn., Martha (Jeff) Lowery of Peoria and Ruth Putney of Norwood; five grandchildren, Christopher (Dana), Shawn (Carrie), Heather Franklin, and Benjamin (Kelsey) and Sarah Lowery; eight great-grandchildren, Nicholas, Lauren, Emma, Elizabeth, Abigail, Madison, Collin and Mackenzie; three brothers, Kenneth (Sheila), Fred (Donna), both of Peoria, and Paul (Peggy) of Niceville, Fla.; one sister, Mary West of Peoria; many nieces, nephews and cousins; and his constant canine companion, Mary Rose.
He was preceded in death by one sister and two brothers.
He was a U.S. Army Ranger in World War II, participating in the invasion of Normandy and continuing to fight with his unit through the end of the war, receiving a Purple Heart with an oak-leaf cluster and the Bronze Star.
He was a hero in every sense of the word and will be deeply missed by all who loved him.
He worked in the gas department at CILCO for 31 years.
He was a member of the NRA, D.A.V. and the Rangers Battalions Association.