Ranger

Henry R. Seaman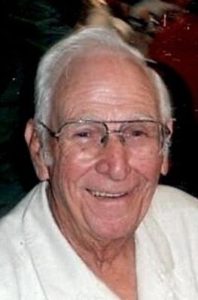 Born: 3 July 1923, New Britain, Hartford County, Connecticut, United States of America
Died: 13 November 2013, Cape Canaveral, Brevard County, Florida, United States of America
Army Serial Number: 31328702
Ranger Battalion/Company: 5A
Rank: T/5
Enlisted: 18 March 1943, Hartford, Connecticut
Battles/Campaigns/Significants: D-Day, Omaha Beach, Normandy France
Medals/Awards: Bronze Star, Purple Heart, American Campaign Medal, European-African-Middle Eastern Campaign Medal with two Bronze Service Stars and Bronze Arrowhead, WWII Victory Medal, Combat Infantry Badge, Ranger Tab, and a Presidential Unit Citation.
Obituary
Henry R. Seaman, 90, passed away Wednesday, November 13th at his home with his wife and daughter by his side.
He was born on July 3rd, 1923 in New Britain, Connecticut and was an Army veteran of WW II serving with the 5th Ranger Battalion in the landing at Normandy, France and Omaha Beach on D-Day and fought in campaigns in Northern France and Germany receiving the purple heart, bronze star, and numerous other awards.
Henry was a long time member of I.B.E.W. Local Union #90 in New Britain and The Business Agent of Local #37 until retirement in 1987. He was an avid fisherman and Boston Red Sox's Fan.
He is survived by his loving wife, Margaret, of 68 blessed years of marriage; daughter, Barbara (Harry) Lauer; grandson, Jeff Lauer and granddaughter Kristen Lauer(Ralph) Gaudiello; two nieces, Laurie (Walter) Balasa and Norma Knudsen.
A Mass of Christian Burial will be held 10:30 A.M. Friday, November 22nd at Church of Our Saviour in Cocoa Beach with full military honors. Burial will be in Florida National Cemetery in Bushnell.