LTC

Henry Mucci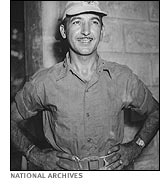 Born:
Died:
Army Serial Number:
Ranger Battalion/Company:
Rank:
Enlisted:
Battles/Campaigns/Significants:
Medals/Awards:
Click here to go to 6th Bn History
Lieutenant Colonel Henry Mucci was the man chosen to train a Ranger outfit that would participate in the Pacific Theater of World War II. Like Darby before him, Mucci was a West Point graduate with the ability to win the respect, admiration, and love of those who served under him. With the need for an outfit in the Pacific to be trained to conduct the now trademark suicide missions of the famed Army Rangers, Mucci was the man assigned this task.
The men Mucci started with were from the 98th. They were boys from farms and ranches of middle America -- big, strong men known as "mule skinners." Like the Original 1st Ranger Battalion whose ranks boasted two-thirds from the upper mid-west, the 6th Battalion was also predominantly from the same part of the United States. They had been recruited to train in the mountains of New Guinea with heavy artillery carried on the backs of pack animals. By 1944, the Army considered the mule skinners obsolete, and when General Krueger went looking to train a new special unit, he looked to the strength in the 98th mule skinners for volunteers. Mucci was the man assigned the job of training them and the initiation of the last Ranger Battalion to participate in World War II commenced.
Training was conducted under the extreme tropic heat and humidity in the snake infested jungles of New Guinea. He took on the unit of Army mule skinners in the 98th, offered any who felt they couldn't handle the stress of training and active duty as a Ranger the opportunity to be reassigned, because the role of a Ranger was strictly volunteer.
Mucci personally taught all aspects of fighting: hand to hand combat, knifing, bayoneting and marksmanship. He led them on torturous marches across the tropical jungles, through treacherous rivers, and up mountainsides in ferocious heat. Jungle combat, night combat, amphibious combat: Mucci taught and reveled in it all. For one year, Mucci worked with his men in the tradition of the Army Ranger units that came before them.
John Richardson, 6th Army Ranger, recalled: "I thought he was going to kill us. He called us rats, he called us everything but a child of God. And he told us, "I'm going to make you so d----- mean, you will kill your own grandmother…" I wondered why he was putting us through so much, but before it was over, there was no question about it, I knew why. And once he got us trained and picked out, he loved us to death. And there wasn't anything too good for us. He knew what he was doing when he was training us."
Bob Anderson, 6th Army Ranger remembered, "He worked us so hard that sometimes I'd think I hate that man and I'd double-time back to my camp and say, 'You can't kill me, I can do more. You can't give me enough, I can do more than you can give me.' So he had us in shape and once he got us trained he was the nicest man you ever saw. But he knew how to train men." No doubt, Mucci got his men in peak physical condition. They were ready for anything.
Robert Prince said, "He made a Ranger battalion out of a bunch of mule skinners, and he inspired us and trained us -- and any success we had, belongs to Colonel Mucci."
When General Walter Krueger (Alamo Scout) and one of his top men, Horton White, were approached to conduct a raid on the POW camp at Cabanatuan, he needed the muscle of another highly trained unit. They chose Mucci and the 6th Ranger Battalion to lead the raid on Cabanatuan, which was now home to survivors of the famed Bataan Death March.
As Krueger considered the raid, he knew they would need an elite force of special operations to accomplish this mission. Hampton Sides, author of Ghost Soldiers, writes: "[They] would need a group of men trained in stealth techniques and the tactics of lightning assault. The expeditioners must be in exceptional physical condition, as they would have to walk some 30 miles on foot in each direction, marching around the clock. They would have to be versatile, self-reliant, and extremely proficient with light arms, as the odds were better than good that they would encounter major enemy resistance along the trek."
The rest is history. Mucci's actions and decisions on the raid were flawless. General Douglas MacArthur awarded Mucci the Distinguished Service Cross and said that the raid was " magnificent and reflected extraordinary credit to all concerned. "The military promoted Mucci to a full colonel as a result of his leadership in the success of the Cabanatuan Raid.
Upon his return home, Mucci was treated as a national hero in his home town of Bridgeport, Connecticut. He became an oil representative for a Canadian firm in Bangkok. Demonstrating the Ranger spirit that lived on in all Rangers, Mucci died at age 86 in Florida from injuries related to swimming in rough surf.