Ranger

Henry C. Deck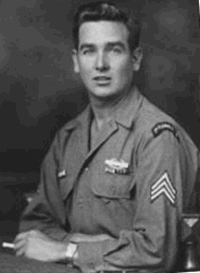 Born:
Died:
Army Serial Number:
Ranger Battalion/Company:
Rank:
Enlisted:
Battles/Campaigns/Significants:
Medals/Awards:
My uncle, Henry C. Deck, was a Sergeant in Co "A" of the 5th Ranger Battalion. He was born on March 3, 1920 and served with the Rangers from February 1942 to sometime in 1944. He was wounded shortly after D-day.
He was the oldest of four children, with a brother, Robert Deck, who also served in World War II with the 3rd Army. Ranger Henry Deck was married for 35 years and lived in Myerstown, Pennsylvania where he worked for the Hershey Chocolate Company for 37 years. He passed away on April 30, 1987.
The following article is one that was published after the Deck brothers met for the first time after two and a half years, in France.
Photo and history submitted by Ranger Deck's nephew:
Dennis Boyer of Camphill, PA