Ranger

Harold Gene Mann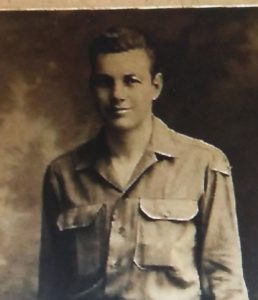 Born: 1 April 1923, Oceola, Illinois
Died: 7 December 1989, Jacksonville, Florida
Army Serial Number: 36989010
Ranger Battalion/Company: 5 HQ/C
Rank: PFC/Tech5/PFC/Tech5 back to PFC when transferred to 277th in the 95 Division
Enlisted: 14 June 1940, Ft. Thomas, Kentucky
Discharged: 25 September 1945, Camp Shelby, Mississippi
Battles/Campaigns/Significants:
Medals/Awards: Bronze Star, Presidential Unit Citation, Combat Infantry Badge, American Defense Service Medal, WWII Victory Medal, European-Africa-Middle Eastern Campaign Medal
Bio provided by son Howard Mann
Harold Gene Mann, Tech Sgt/Private, joined the 5th Ranger Battalion early. He went through training in the HQ company at Camp Forrest and all other locations. Was transferred to Company C before D-Day, and was at Omaha Beach during the landings. He was awarded a Bronze Star for actions in October 1944 by rescuing six wounded GI's under machine gun fire. He was reduced in grade from Tech Sgt to private but reinstated before being wounded sometime late in 1944. He was transferred to the 95th Division, 377th regiment and his discharge showed he was an expert in demolition and mortar.
After his discharge he returned stateside, married Ruth Bachofer in 1948 and raised three sons, Jon, Howard and Mark Mann. He worked numerous construction jobs from welding to building bridges, schools and hospitals in the building boom in Florida in the early 1950's. He worked for a number of years as fire and security at Jacksonville Naval Air Station – Cecil Field. He mostly enjoyed working for Pan American Airlines as a subcontractor in the Space Program in the 1960's and was present for the Moon landing, Apollo 14 and 15. He was heavily involved in Boy Scouts and at one point was North East Florida Commissioner. After the Space Program downsized he returned stateside to run a Shell gas station franchise and then bought a larger gas station on Main Street in Jacksonville, Florida. As the years told on him, he sold his gas station, bought a flea market and cooked breakfast for his customers.
He was affable, friendly, but also could be scary and violent as a father. He was both admired and feared. For a child of the Depression era, he was a survivor of many difficult and hard times. At 14 he ran away from home in the Imperial Valley in California and never looked back. He hitchhiked to Dixon, Illinois and lived with his sister, my Aunt Grace, until he and she agreed he needed to join the army to learn a trade. They lied about his real name, Harold Eugene Tracy, and his age, 16, so he could be accepted into the Army. He started training but decided he didn't like the discipline, so he left (AWOL) and was caught in a bar fight in St. Louis. He was court-martialed and did a year in military prison in Wisconsin. Apparently, he was needed, and he behaved himself in prison, so he was reinstated. He reached the grade of Tech Sgt before he was accepted into the Rangers.
Dad died of mesothelioma in 1989 in Jacksonville, Florida. I wouldn't trade being his son for anything.