Ranger

Grant Eli Martin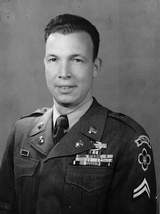 Born: 29 June 1921, Louisville, Jefferson County, Kentucky, USA
Died: 31 March 2007, Mount Washington, Bullitt County, Kentucky, USA
Army Serial Number: 20535941
Ranger Battalion/Company: 1E/4
Rank: T/5
Enlisted: 17 January 1941, Louisville Kentucky
Discharged:
Battles/Campaigns/Significants: Dieppe, Tunsia, Sicily, Anzio, Cisterna
Medals/Awards: two Bronze Stars, two Purple Hearts, WWII Victory Medal, European-Middle Eastern-Africa Campaign Medal, Presidential Unit Citation, Prisoner of War Medal
Grant E. "Eli" Martin, 85 of Mt. Washington, KY passed away at his residence on Saturday March 31, 2007. Born in Louisville, he was a retired police officer for the Louisville Housing Authority and a World War II Army veteran. He was a past Master of Daylight Masonic Lodge #760, and a member of the Scottish Rite. He was a Baptist by faith.
He was preceded in death by his siblings, Clara, Violet Mae, Anna Lillian, Jess and Arthur. He is survived by his wife of 55 years, the former Kathleen Perry (Kay); daughter Judy Walters (Jim); stepson, Larry Perry of Virginia; grandchildren, great-grandchildren, and nieces and nephews.
His funeral service was held on Monday April 2, 2007 at 1:00 P.M. at Highlands Funeral Home, 3331 Taylorsville Rd (Louisville, KY) with burial in Louisville Memorial Gardens West.
The following is an article that appeared in the Courier Journal shortly after Grant's death. I would like to express my deepest gratitude to Mr. Bob Hill, the author, for writing this story and allowing me to post it here as a memorial to Grant's life:
Obituary didn't do justice to a veteran's life
Grant Elias "Eli" Martin was born on June 29, 1921, on Lytle Street in Portland. His mother worked for the Salvation Army; his father drove a horse-drawn ice wagon for the Artic Ice Co.
He graduated from Shawnee High School, enlisted in the Army in 1939. He was sent to England at the onset of World War II, where he volunteered for the newly formed 1st Ranger Battalion modeled after -- and aided by -- British commandos.
The Rangers trained with the commandos under live fire at a remote camp in rugged, rainy Achnacarry, Scotland. The group would later be known as "Darby's Rangers" in honor of their commander, Capt. William Darby.
Martin was one of 49 Rangers who took part in the poorly planned and ultimately disastrous raid on Dieppe, France, in August 1942, in which 4,384 of the 6,086 men who made it ashore were killed, wounded or captured. The 49 Americans were the first to see action against the Germans in the war.
Martin was wounded near Tunisia in 1943. He returned to combat, was captured, taken to Sicily -- and escaped.
He was with Darby's Rangers during their invasion of Sicily and Italy. Near Cisterna, Italy, the relatively lightly armed Rangers became trapped behind enemy lines on open ground, facing brutal German fire and Panzer tanks. The Germans placed captured Rangers in front of the tanks and demanded the others surrender. Of the 767 Rangers in the battle, all but six were killed, wounded or taken prisoner.
Martin was taken to a POW camp in Germany. He escaped and was recaptured; the Germans smashed his hands with a shovel as punishment. He escaped again, made his way back to American lines and finished the war fighting with the rugged 10th Mountain Division. He was awarded two Bronze Stars for valor and two Purple Hearts.
After the war he returned to Louisville, where he was active in the Masons and worked as a police officer for the Louisville Housing Authority. He rarely talked to anyone about his war experiences.
About five years ago he did speak with a man named Mike Murphy, an Indiana state representative from Marion County. Murphy, a military historian, had been related to Martin by marriage. Murphy would name his son -- Kevin Grant Murphy -- in Martin's honor. Murphy said Martin would talk about the war, then choke up and begin crying.
Martin's hobbies were building model airplanes, painting by number and collecting Jim Beam bottles -- the latter with his wife. His fun was telling great Irish stories. He was very proud of his Rangers. He kept many rolls of film taken of buddies during the war -- but never developed them. He died last Saturday of esophageal cancer.
All he ever told his wife and daughter about the war was that he was wounded a couple of times -- and had been a POW. Kathleen Martin never pushed for more information. She said her husband had been a good and caring man who enjoyed being around people.