Ranger

George F. Kerchner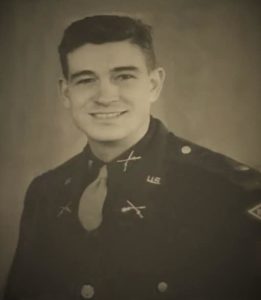 Born: 22 February 1918
Died: 17 February 2012
Army Serial Number: 1309569
Ranger Battalion/Company: 2D
Rank: 1st Lt
Enlisted: 17 June 1942, Baltimore Maryland
Battles/Campaigns/Significants: D-Day, Distinguished Service Cross, Purple Heart
KERCHNER, GEORGE F.
Citation:
The President of the United States takes pleasure in presenting the Distinguished Service Cross to George F. Kerchner (0-1309569), Second Lieutenant (Infantry), U.S. Army, for extraordinary heroism in connection with military operations against an armed enemy while serving with an Infantry Company of the 2d Ranger Infantry Battalion, in action against enemy forces on 6 June 1944, in France. When the Company Commander and other company officers became casualties from the heavy enemy rifle fire, machine gun and artillery fire upon landing on the coast of France, Second Lieutenant Kerchner assumed command of the company in the successful assault upon and captured the 155-mm. enemy gun positions. While engaged in this operation, Second Lieutenant Kerchner and fifteen members of his organization were surrounded and cut off from the main body for two and one-half days. He tenaciously and courageously held his position until relieved and was a constant inspiration to his troops. The outstanding heroism displayed by Second Lieutenant Kerchner during the initial assault and subsequent operations exemplify the highest traditions of the military forces of the United States and reflect great credit upon himself, his unit, and the United States Army.
Headquarters, First U.S. Army, General Orders No. 28 (June 20, 1944)
Home Town: Maryland
Obituary
17-Feb-2012
Virginia
George Francis Kerchner passed away quietly in his sleep at his home in Midlothian, Va. on Feb 17, just 5 days short of his 94th birthday. George was born on Feb. 22, 1918 to the late John and Caroline Kerchner, formerly of 1823 North Caroline Street in Baltimore and attended Poly High School before working as a security guard for the Pennsylvania Railroad and also for the Arundel Ice Cream Company, a family business established in 1920 and named for a rowing club which was popular at that time.
George married his high school sweetheart, the former Violet Irene Schuneman, formerly of 458 South Bentalou Street in 1938.
George enlisted in the US Army in June 1942, receiving his infantry training at Camp Wheeler in Georgia where he entered NCO school in September and then Officer Candidate School at Ft. Benning in October, 1942. George served as a Platoon Leader with the 119th Infantry, 30th Division ("Old Hickory") until September, 1943 when he shipped overseas as a Replacement Officer. In November, he volunteered for the elite US Army Rangers, later telling an interviewer that "if I was going to be in the Army, I was going in the best outfit there was."
George joined the 2nd Ranger Battalion in Dec, 1943 and began training for what General Omar Bradley called, "… the toughest of any task assigned on June 6, 1944 (D-Day)" (Douglas Brinkley, "The Boys of Pt du Hoc"). George and his fellow Rangers, under the command of Col James Rudder were to climb 100' cliffs under heavy German fire, then destroy six large German guns which were in position to fire down upon both Utah and Omaha beaches, as well as the sea lanes approaching the Allied landing zones.
While still on the beach, George assumed command of D Company when his fellow officers were either killed or severely wounded. Although later quoted in a 2011 Documentary by the Discovery Channel as saying he "didn't feel like a hero," both his men and his commanding officers felt otherwise. For his actions during their harrowing ordeal, George was awarded the Distinguished Service Cross, second only to the Medal of Honor. His commendation, reads in part, "By his determined leadership and outstanding heroism, he led his company in the successful assault upon and captured the 155 mm enemy gun positions. While engaged in this operation, Lt Kerchner and 15 members of his organization were cut off from the main body and surrounded for two and a half days. He tenaciously and courageously held his position until relieved and was a constant inspiration and source of encouragement to his troops."
50 years later, a fellow Ranger confided in one of Mr. Kerchner's sons, "When we were surrounded for so long, I had started to cry and would have kept it up if it wasn't for your dad jumping in my foxhole and holding me like a baby."
In July of 1944, the RJ Reynolds Tobacco Co announced on the Gary Moore-Jimmy Durante radio show, "In your honor Lt Kerchner, the makers of Camel cigarettes are sending to our fighters overseas, 400,000 Camel cigarettes."
George was wounded 3 months later, shot through the shoulder while in action near the town of St Lo. After convalescing, he served out the remainder of the war as an infantry battle courses instructor. He then joined the National Guard, receiving his commission from Maryland Governor Herbert O'Conor in a signed letter dated Sept 10, 1946.
Lt Kerchner rose through the ranks, eventually serving 8 years as Executive Officer, Headquarters 2nd Battalion, 175th Infantry, Maryland National Guard, retiring in 1962 with the rank of Lt Colonel.
After the war, George returned to work for The Arundel and helped grow the business to a point where their 36 dealer and company owned stores throughout Baltimore sold more hand dipped ice cream than any other dairy in the area.
While a Supervisor at their Northwood store, George played a minor role in Baltimore's integration struggle. In April of 1959, he was quoted as telling the student protesters, "I want you to know that you (negroes) have as much right to come here as anyone else."
George was eventually elected President of the Arundel and as majority stockholder agreed to sell out to the old Fairlanes Company.
In 1970, George moved his family to Ocean City, Maryland and bought the Chalet Apartments, a small hotel then located bayside at 10th Street. He enjoyed boating, fishing and everything about the slower pace of the Maryland's Eastern Shore except maybe Ocean City's summer crowds. George and Vi celebrated their 50th wedding anniversary shortly before she succumbed to cancer in January, 1989.
George later met and fell in love with his second wife, the former Kathryn (Kay) Fairchild who survives him. George and Kay recently celebrated their 20th wedding anniversary together.
In addition to Vi, George is predeceased by his brother John and his sisters; Mary Loretta and Mary Lucille. In addition to Kay, George is survived by his daughter, Mary Lou Kerchner and his 3 sons; John Francis Kerchner, Thomas Joseph Kerchner and Gregory Paul Kerchner. He is also survived by 4 grandsons, 2 great grandsons and 2 great granddaughters.
Private services are planned in Midlothian, Va. In lieu of flowers, the family asks that donations be made in his name to either;
The National D-Day Memorial in Bedford, Va, PO Box 77, Bedford, Va 24523 or to Descendants of WWII Rangers, Ranger Ben Temkin, National Treasurer, 80-35 Springfield Blvd., Apt. 3M, Queens Village, NY 11427
The Independent, a UK newspaper paid tribute to Ranger Kerchner as well. Read it here