Ranger

Fernand Medeiros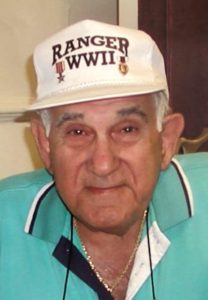 Born: 25 March 1923 in Taunton, MA.
Died: 17 December 2019 in Taunton, MA
Army Serial Number: 31303229
Ranger Battalion/Company: 4HQ and F
Rank: PVT
Enlisted: 12 March 1943 in Boston, MA
Discharged:
Battles/Campaigns/Significants: The Winterline at Venafro
Medals/Awards: Combat Infantry Badge, BSM, Prisoner Of War Medal, European Africa Middle Eastern Campaign Medal, Purple Heart, Good Conduct Medal, WWII Victory Medal, 2 Bronze Service Stars, WWII Sharpshooter with Rifle
Obituary
Fernand Medeiros of Taunton, a former City Councilman and a WWII Veteran who was wounded in action and was a POW, died peacefully in his home surrounded by his family on Tuesday, December 17, 2019. He was 96 years old.
Also known as Ferdy, he was the husband of Madeline (Souza) Medeiros and the son of the late Joseph and Rose Medeiros. His is survived by his wife of 73 years, Madeline (Souza), their children, Michael and Lorna (Medeiros) Flynn (wife of the late William Flynn); two granddaughters, Erin Wittrock and husband Cory and Alicia Roberts and husband Dempsey; and three great granddaughters, Quinn Roberts, Reagan Roberts, and Ava Wittrock.
He lived in Taunton for most of his life. He was a mechanical engineer by profession, having worked for firms mainly in Boston and was elected to the Taunton City Council in 1980 for two terms. He was active in civic organizations and in city government, serving as the representative for many mayors to the Southeastern Regional Planning and Economic Development District (SRPEDD). During his retirement, he was a part time city engineer.
Medeiros graduated from Walker School in the Weir and Coyle High School in 1942, where he excelled in athletics. Upon finishing high school, he enlisted in the Army on 12 March 1943 in Boston, Massachusetts. He volunteered and joined the elite Darby's Rangers and served during WWII. He was assigned to the 4th Ranger Battalion Headquarters Co on 18 October 1943. He was transferred to F Company on 1 November 1943. While fighting in the mountains of Venafro on 4 November 1943 he was wounded and Missing in Action. CPL Charles D Roby was Killed in Action on the very same day. It was later discovered that "Ferdy" was captured by the Germans and spent 18 months in a prison camp in Germany at Stalag VII and later in Poland. He was released from the prison camps back to the Allies in June of 1945. In recognition of his military service, he received various medals and awards including: Purple Heart Medal, Good Conduct Medal, Bronze Star, WWII Victory Medal, European/African/Middle Eastern Campaign Medal with two bronze service stars, Combat Infantry Badge, Honorable Service Lapel Button, WWII Sharpshooter Badge with Rifle Bar, and the POW Medal. In 1998, he and his brother, Armando (also a WWII veteran, now deceased) were the Grand Marshalls for the city's Memorial Day Parade. He was further honored for his service to the city and country in 2011, when a bridge on Summer Street was named the Fernand Medeiros POW Bridge. At the dedication ceremony, he said that he hoped it would also be in memory of all those who served in the Armed Forces, particularly for other POWs and MIAs.
After the war he attended the Milwaukee School of Engineering (MSOE) and earned an Associate Degree in Heating, Ventilation and Air Conditioning in 1951. He worked for major engineering firms where he designed mechanical systems for office buildings, industrial parks, sewage treatment plants, and military facilities in the U.S. and overseas. He also was an instructor at the Franklin Institute of Technology in Boston part time. He was a registered Professional Engineer licensed to practice in Massachusetts and New Hampshire, registered as a Construction Manager Supervisor, and commissioned as a Notary Public. He enjoyed all sports, camping, home improvement projects, and yard work. He and his wife spent many summers over the years on Cape Cod along with their daughter and grandchildren and many winters in Florida, where they walked the beaches. With their many friends – many from childhood – they enjoyed dancing, had parties, spent weekends in New Hampshire, and attended events at the Elks, PACC, VFW and the Portuguese festas. He especially enjoyed following all the Detroit sport teams, eating clam boils and Portuguese soupas. He was an active member of the following civic organizations: Disabled American Veterans Chapter 57, David F. Adams Post 611 for Veterans of Foreign Wars (past Senior Vice Commander and Adjutant), Taunton Elks Lodge 150, Portuguese American Civic Club (where he once served on the Board of Directors), WWII Rangers Association, and the U.S. Army Ranger Association.
For his work as the Mayor's representative to SRPEDD for nearly 15 years, he received the Commission's Annual Service Award in 1985. With his engineering background, he served on various committees for public works. He also worked for a firm designing the then-new Taunton High School. He received a replica of the Keys to the City from Mayor Richard Johnson in appreciation for his service to the city over the years.
Among his professional achievements, he received the MSOE Outstanding Alumnus Award for the Class of 1951 for his years of public service. Professional organizations include: National Society of Professional Engineers; American Society of Heating, Refrigeration, and Air Conditioning Engineers (ASHRAE); and American Society of Plumbing Engineers.
He was a communicant of the Holy Family Church in East Taunton and served on the advisory committee for the new parish center.
In addition to his immediate family, his sister Lucy Souza and Mary Medeiros, wife of brother Armando, survive him.