Ranger

Ewing W. Mays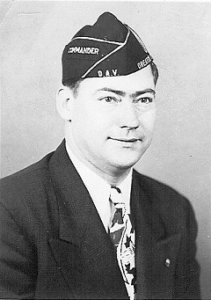 Born:
Died:
Army Serial Number:
Ranger Battalion/Company:
Rank:
Enlisted:
Battles/Campaigns/Significants:
Medals/Awards:
Ewing W. Mays was born the 10th day of January 1918 to Claude and Mary Mays of Craighead County, Arkansas. He joined the mounted Calvary in 1937. He was a sergeant at Fort Knox when He met Darby. He arrived in North Africa early 1943 attached to a supply company "B" Company, 1st Battalion, Repl Dept. Darby was recruiting for the newly formed rangers when he remembered Ewing and personally asked him to join. He gladly accepted Darby's request and after intense training was named a 1st Bn Ranger. His skill and toughness soon shown through and he were asked once again by Darby to help form the 3rd Bn. He fought in both the African and Sicilian campaigns. Off the Straights of Italy he was hit by 210mm fire from an Italian Naval battery, stationed 12 miles across the Messina straits .The hit cost him the loss of both legs. He demands that "They were never lost to battle, but gladly given for his country." As he lay in a hospital bed at McClosky General Hospital for 21 months recovering, he grew wary and tired of the treatment (or lack thereof) that he and his brothers- at-arms would have to endure. His soon to be wife Fay was the ONLY thing that kept him from giving up. He often sat up at night wondering how the veterans who didn't have any one coped. There was no one to support them once the heroic cheers died down and they were left to fend for themselves emotionally and financially. He vowed to change this.
Even while recovering from horrible wounds and numerous operations he stayed patriotic. He would do quite a few radio war bond drives, recruited workers for defense plants and soon became a driving force for post war bond sales. He joined the DAV in 1946. Only two short years later he was named 2nd Junior Vice Commander. Then 1st Junior Vice Commander in '49, 14th District National Executive Committeeman in 1950, and then National Commander 1951-'52. He was a driving force in prosthetic leg creation at the time and sporting his "wooden legs" went on a yearlong tour of all 152 veterans hospitals in the country. Not only did he drive himself to every hospital in 22 states, but did so all on his own dime, financing the trip with donations and what little savings he had. He would call Truman out on numerous occasions for the lack of support after war time for veterans and demand higher pay. Eventually Truman asked him to be ambassador to the wounded veterans of the Korean war, and soon he was in Korea analyzing and grading hospitals and treatment facilities across Asia. He fought for veterans to have zero home sales or property taxes, free license plates, handicapped parking and ramps. He achieved all of these but felt we still could do better.
One of Ewing's greatest fights was also the one no one talked about. He fought for all veterans regardless of race creed or religion. He thought it extremely unfair but worst un-American to use African Americans in battle then treat them like slaves still when they returned. He once toured the new Albuquerque VA Hospital and boasted, "The veterans hospital facilities here are in A-1 shape, I've investigated the entire organization and in 28 states have yet to see such a fine facility." He went on to comment, "I'm not hitting at your city but if you do not provide adequate facilities for Negros, psychopathic, and amnesia patients, then you still cannot claim to be a top facility regardless of conditions or treatment abilities.
He married Fay and had two daughters and a son. In the 70's he realized a dream of helping all handicapped or mentally challenged with the opening of his non-profit 'Mays Mission For The Handicapped' (which is still in operation under the management of his daughter, Sherry Niehaus) in Heber Springs, AR where he would live from the time he left McClosky until his death October 10th 1994. His wife soon followed him when she died, most say of a broken heart. He was officially discharged in 1945. He had two purple hearts, presidential unit citation, and a bronze star. When he passed away President Clinton sent the presidential taps team along with the white house American flag to be draped over his coffin.
Jeremiah C. Stark
proud grandson of Ranger Ewing Mays
updated August 2013