Ranger

Elmo E. Banning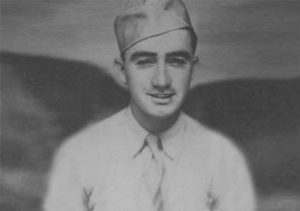 Born: 14 January 1924, Wauneta, Kansas, USA
Died: 6 June 1944, Omaha Beach, Normandy France
Army Serial Number: 37516256
Ranger Battalion/Company: 5B
Rank: T5
Enlisted: 24 March 1943, Ft. Leavenworth,
Discharged:
Battles/Campaigns/Significants: Overlord - D-Day
Medals/Awards: Purple Heart
Buried at: Plot I Row 20 Grave 14
Normandy American Cemetery
Colleville-sur-Mer, France
Elmo E. Banning was only 22 years old when he waded ashore on Omaha Beach as part of the 5th Ranger Battalion on D-Day, June 6, 1944.
Elmo E. Banning was born on Jan. 14, 1924, He was inducted into the service on Mar. 23, 1943, at Ft. Leavenworth, and received his basic training at Fort Leonard Wood, Mo., with the 75th Division. He was then transferred to the Rangers on Sept. 1, 1943. The other camps at which he was stationed in the States were Camp Forrest, Tenn., Fort Pierce, Fla., Fort Dix, N.J., and Camp Kilmer, N.J.
Elmo arrived in the UK via Liverpool England with B Company and the rest of the 5th Ranger Battalion for an intensive training program . They would train with the British commandos for five tough months at locations in Northern England and Scotland. On June the 6th Elmo would be a member of Ranger Force C, made up of companies A and B 2nd Ranger Battalion and the entire 5th Ranger Battalion. The mission was to land behind three companies from the 2nd Rangers who would climb and capture Pointe du Hoc, then destroy the 155 mm guns that over looked the beach . Because of rough weather , smoke and confusion, the 5th Ranger Battalion and Banning were diverted to Dog Red sector of Omaha Beach. Wet and exhausted, Elmo and his friends from Company B rest of the 5th Rangers who were pinned down on the beach Where they came into the view of Gen. Norman "Dutch" Cota, the assistant division commander of the 29th Infantry Division , who was on the beach seemingly unaffected by the danger around him. Cota exhorted the Rangers amidst the machine gun fire, exploding mortar rounds and artillery barrage. He asked Col. Max Schneider commander Fifth Ranger Battalion , "What outfit is this?" When given the reply "Rangers" Cota said, "Well, goddammit, if you're Rangers, get up and lead the way!"this was later adopted as the motto of the Rangers. The Rangers climbed the bluffs, were they fought hand-to-hand and captured the German defensive positions opening the way for the 29th Division.
Ranger Elmo E. Banning was killed in action during an artillery barrage that day.