Ranger

Elmer P Edwards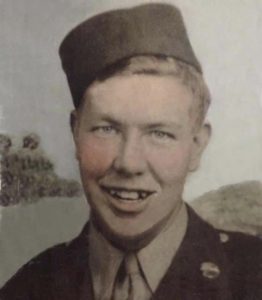 Elmer Paul Edwards
Born: 15 December 1923 in Poland, Maine
Died:  19 April 2018 in Harrison, Maine at age 94
Army Serial Number:  31220627
Ranger Battalion/Company: 4/C
Rank:  PFC
Enlisted:  2 February 1943 in Portland, Maine
Battles/Campaigns/Significants:   Anzio Landing Italy/ Battle for Cisterna, Italy
Medals/Awards: Combat Infantryman Badge, Bronze Star Medal, EAME Campaign Medal, WWII Victory Medal,  Presidental Unit Citation
Biography
Ranger Elmer P Edwards was born in Poland, Maine, on Dec. 15, 1923, a son of Leroy and Melissa Anna (Strout) Edwards. Elmer attended grammar school in Poland, Maine. He lived in Casco with his family in 1940. He enlisted in the Army in Portland, Maine 2 Feb 1943. He volunteered and trained as a Darby Ranger. Ranger Edwards served with the 4th Ranger Battalion. He was transferred into the FSSF 2-1 in March or April 1944.
On Feb. 3, 2015, he received a Congressional Gold Medal at the White House in Washington, D.C. with the First Special Service Force.
Elmer married Ruth Brett Flagg on Nov. 17, 1944. In Elmer's younger years, he worked in the woods and was a handyman for Swampscotta Nursing Home. He worked for the town of Harrison as Road Foreman for many years. He loved working in his wood shop making furniture and toys. Elmer could be seen almost every day working in his shop or outside his home until he was 93 years old.
They had eight sons and three daughters. Surviving are sons, Josiah, Leroy and Richard of Harrison, Kenneth of Virginia, Elmer Paul Jr. of Oxford, Keith of Casco and Oscar of Fryeburg; and daughters, Bonnie of Harrison and Audrey of Windham. Elmer is also survived by 15 grandchildren, 16 great-grandchildren and eight great-great-grandchildren; and his one remaining sister, Margaret Butterfield. He was predeceased by his wife Ruth, a daughter Lucille, and a son Donald. Elmer was buried beside his wife Ruth at Oakdale Cemetery on Jesse Mill Rd in Otisfield, Maine.