Ranger

Ellis L. Lawson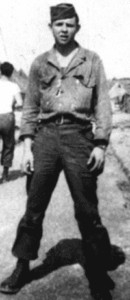 Born:
Died:
Army Serial Number:
Ranger Battalion/Company:
Rank:
Enlisted:
Battles/Campaigns/Significants:
Medals/Awards:
My dad was CSM Ellis L. Lawson, (ret). He passed away on 4/3/99 and is buried with my mother at Fort Sam Houston National Cemetery.
This photo was taken of him on or around June 8th, 1944.. He served with D CO, 2nd Ranger Battalion, from the formation of the unit to the deactivation. He climbed the Point, as we kids came to know it. He once said it was the finest day of his life, and they were the finest men he ever served with.
Daddy went on the serve his country through Korea and Viet Nam, retiring after 28 years of service in 1970.
Marie D. Lawson
Proud Daughter
May 2004