Ranger

Donald W. VanArtsdalen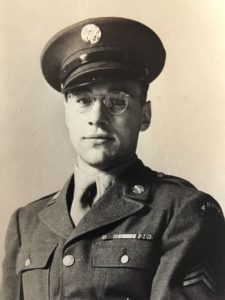 Born: 21 Oct 1919, Doylestown, Pennsylvania, USA
Died: 21 May 1919, Doylestown, Pennsylvania
Army Serial Number: 10600087
Ranger Battalion/Company: 1E
Rank: Sgt
Enlisted: 1 July 1942, Bucks, Pennsylvania
Battles/Campaigns/Significants: Tunsia, Sicily, Anzio
Medals/Awards: Bronze Star, Presidential Unit Citation, WWII Victory Medal
Obituary
Donald W. VanArtsdalen, 99, of Doylestown, a federal judge in Philadelphia and a decorated World War II veteran, died Tuesday, May 21, of leukemia at Pine Run Retirement Community. Judge VanArtsdalen was nominated to the bench of the Eastern District Court by President Richard M. Nixon. His appointment became official on Oct. 15, 1970, and he remained on the bench until retiring in 1999. He was involved with many of the leading civil and criminal cases of the day. Widely respected by the lawyers who appeared before him, he was known for his patient, firm courtroom demeanor. When he retired in 1999, Edward Roy Becker, then-chief judge of the U.S. Court of Appeals for the Third Circuit, wrote to Judge VanArtsdalen: "I have never known anyone who achieved such a high position who was so utterly devoid of guile, or whose integrity was so total as [you]."
Born and raised in Doylestown, he graduated from Doylestown High School before enrolling in Williams College in Massachusetts but left his junior year to join the Canadian Army to fight in World War II. The United States had not yet entered the war. He was deployed as an artillery antiaircraft gunner at sites in and around London in 1940 and 1941 during the Blitz. After the United States entered the war, the judge transferred into the U.S Army in July 1942 while still in England. He volunteered for the newly formed First Ranger Battalion. These troops became known as "Darby's Rangers." During the North African and Italian campaigns, Judge VanArtsdalen was part of four beachhead landings, ahead of the main forces, in Algeria, on Sicily, and at Anzio, Italy. He served as a rifleman, company scout, and mortar crew sergeant. He was also involved in the fighting in Tunisia that led to the eventual defeat of Erwin Rommel's German Afrika Korps. The judge was then ordered to report to Fort Meade, Md. He was honorably discharged and awarded nine medals and citations, one a Bronze Star Medal for valor.
After his military service, Judge VanArtsdalen enrolled in the University of Pennsylvania Law School without a college degree. "It was sort of an experiment," he told the Daily Intelligencer in December 1970. "Maybe it was because my father, Isaac, had been a lawyer here since 1902." The judge earned a law degree in 1947 and practiced law in Doylestown until 1954, when he became the Bucks County district attorney. He held the office until 1958.
A productive judge, he was covered closely by the press. One case he heard was the effort by Swarthmore College, Nether Providence Township, Swarthmore Borough, and Delaware County civic groups to block construction of the Blue Route through their areas. The judge froze federal funds for the highway in 1982 when the plaintiffs sued federal transportation officials. He ordered an environmental impact study.
The project was given the go-ahead in 1984 but was halted that fall after a second lawsuit was filed by the same parties. Despite the parrying, the roadway was built and opened in December 1991. A case in November 1996 was the proposed $8.5 billion merger of Conrail with CSX Corp., which was contested by spurned partner Norfolk Southern. Norfolk had offered $10 billion. The case was watched carefully by Wall Street. The judge denied an injunction blocking the CSX bid saying, "It is hard for me to conceive any shareholder being misled by Conrail or CSX." In a third case, the judge sentenced six Philadelphia homicide detectives to 15 months in prison for conspiring to brutalize suspects and witnesses, violating their civil rights, in the investigation of an October 1975 firebombing in Feltonville. The fire killed five people. Under pressure, one suspect falsely confessed to the crime before another took responsibility for it. "I believe that the superiors of the police force in this case have a great deal of responsibility for what is happening here today," the judge said, on pronouncing sentence on April 21, 1978.
The judge and his wife, Marie Catherine Auerbach, were founding members of the Bucks County Ski Club and the Buckingham Racquet Club. They enjoyed horseback riding, swimming, traveling, boating, and riding in convertibles.
He windsurfed and swam into old age. "Always with a big smile and a great sense of humor, he was an extraordinary inspiration to those who knew or worked with him," his family said.
His wife died in 2016. An infant son, Thomas Martin, an infant daughter, Nancy Jane, and a brother and sister also died earlier.
He is survived by a niece, Mary Elizabeth Meininger, and a nephew, Bradford B. Owen Jr.