Ranger

Donald S. Frederick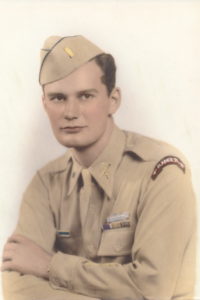 Born: 1 January 1923, Albert Lea, Minnesota, USA
Died: 10 September 2010, Edina, Hennepin, Minnesota, USA
Army Serial Number: 20714962
Ranger Battalion/Company: 1F/4E
Rank: 1st LT
Enlisted: 10 February 1941 Minneapolis, Minnesota
Discharged:
Battles/Campaigns/Significants:
Medals/Awards: Prisoner of War Medal, WWII Victory Medal
2nd Lt Donald S Frederick appears on the roster of American POW's held at OFLAG XIII-B, Hammelburg, Bavaria, Germany. Initially held at OFLAG 64, Szubin, Poland, he and fellow POW's were force-marched to Hammelburg in early 1945. Hammelburg was abandoned in late March 1945 and POW's were railed to Stalag VII-A, Moosburg where they were eventually liberated.
Don was a member of the WWII original "Darby's Rangers", Ranger Battalions 1F and 4E, 1st Lieutenant. He was a P.O.W. – Oflag 64, and Korean War veteran.
Don joined the Minnesota National Guard in 1939 at the age of sixteen. Don was assigned to F Battery of the 151st Field Artillery, 34th Division. His company trained at Camp Claiborne, LA before shipping out to Ireland. Once there, Don volunteered to become a member of the first U.S. Army Ranger Battalion. Following a rigorous six-week Commando training session in the Scottish Highlands, the 1st Ranger Battalion was sent to North Africa.
In November 1943, Don, then a member of the 4th Ranger Battalion, was captured by the Germans near Venafro, Italy following the allied invasion of that country. He was sent to Lukenwalde, a POW camp thirty miles south of Berlin. About a month later, he was transferred by train to Oflag 64, near Szubin, Poland. In late January 1945, the POWs were moved again, this time on foot, over 400 miles, to Hammelburg POW camp. From there he was transferred to Moosburg and then liberated on April 29, 1945 by General Patton's forces.
Don died Sept. 10, 2010 at age 87 in Edina, MN. Survived by his wife of 64 years, Carolyn; children, Linda (Tom) Roof, John (Linda) Frederick and Jane (Dan) Slavin; 4 grandchildren, and 5 great-grandchildren. Don is buried at Fort Snelling National Cemetery in Minneapolis, MN.
Don was very proud of his Ranger heritage.
Don Frederick 2009 interview – Richfield "Out & About"
Interview with Don Frederick at 2003 Reunion
Interview with Don Frederick
WWII History Round Table with Don & Carolyn Frederick