Ranger

Donald L. Padgett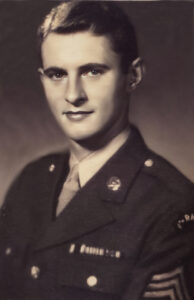 S/SGT Donald Lewis Padgett
Born:  4 March 1924 in Los Angeles, California
Died:   21 July 1969 Fulton, Georgia
Army Serial Number: 3345251
Ranger Battalion/Company: 4D & 4HQ
Rank: S/Sgt
Enlisted:  11 February 1943
Battles/Campaigns/Significants:  Sicily and Italy, Gela, Butura, Salerno, Chiunzi Pass, Anzio Landings
Medals/Awards:  Combat Infantryman Badge, Bronze Star Medal, Purple Heart, Good Conduct Medal, EAME Campaign Medal, 3 Bronze Battle Stars, American Campaign Medal, WWII Victory Medal, PUC for Salerno, Chiunzi Pass, 5th Army Commendation.
Biography
Donald Lewis Padgett was born 4 March 1924 in Los Angeles, California. Donald was the son of Benjamin L. Padgett and Anne McFarlene. The Padgett family relocated to the city of Washington, DC.
Donald and his younger brother Bruce attended school in the Washington schools. Donald attended Woodrow Wilson High School. He was also the President of the Fraternity of Pi Delt Phi. According to his draft data he had also attended 1 year of college. In 1942 he was also employed by IBM in Washington, DC.
Donald's draft card describes him as a young educated blue eyed blonde that was 6'1" 145 lbs. He started his military career in 1943 when enlisted on 11 February 1943 at Ft Myers, Virginia. By April of 1943 Donald finds himself inspired to join an elite group of soldiers called "Rangers". He was at Camp Croft in South Carolina studying combat intelligence, fire control observation, drawing maps, reading maps and other military ops. Donald was aboard ship headed for North Africa in July of 1943. He does join the 4th Ranger Battallion as a private and is assigned to D Company. The 4th Ranger Battalion was just organized along with the 3rd Ranger Battalion. Donald got trained by a cadre of experienced 1st Ranger Battalion veterans who had already seen action in the North Africa and Tunisia theater of combat.
The 4th Rangers first operation was the landing at Gela, Sicily. The 3rd Rangers were landing at Licata. After the Allies drove the Germans and their troops successfully out of Sicily into Italy, Ranger Padgett was promoted to PFC on 1 September 1943. All three Ranger Battalions would reunite and make their first landing in the Salerno area. The Rangers landed at Maiori, Italy on 9 September and proceeded to secure Salerno harbor and proceed up to Chiunzi Pass to prevent the Germans and their troops from breaking thru. It was during this period Donald was injured by scrapnel. He was treated at an aid station but returned to his D Company. After a month of all three Ranger units holding the pass they were relieved. This action at Salerno would earn the 1st, 3rd and 4th Rangers a Presidential Unit Citation.
On 4 October 1943 Ranger Padgett went out because of a bad case of malaria probably contracted in Sicily. He would be out of action several months in the hospital. He returned to duty 4 December. The 4th Rangers were in Naples at that time. Donald would be able to get some retraining and get ready for the Anzio Landing. He was promoted to Corporal on 1 January 1944 and he was promoted to Sergeant two weeks later on 15 January. Two days later on the 17th he was transferred to 4th Ranger HQ Company. On 20 January 4th Rangers boarded HMS Winchester Castle headed for Anzio, Italy. There were drills practiced aboard ship during that time. They landed at Anzio ready for attack at 02:00 hrs.
HQ were busy supplying the line companies and getting the men medical aid.
Ranger Padgett was transferred to the Personal Center on 27 January 1943.
He was evacuated because of a serious case of hepatitis. He returned to the United States and wanted to continue his career in the military. SGT Padgett was selected to go to West Point after the primary candidate was killed in action. He attended West Point Prep School at Cornell University and Officer training classes at FT Benning. He was not able to apply himself sufficiently because of his health. He returned to 4th Ranger Battalion HQ Co at Camp Butner, South Carolina. He was later reassigned to Washington, DC as a Military Police in Washington, DC and Fort Myers. He was promoted to a Staff Sergeant as an MP. He was honorably discharged on 24 January 1946.
Donald met Ruth Henrietta Wills. She graduated from Cornell University and was training at the U. S. Naval Training School in July of 1945 when the announcement came out in the papers of their engagement. The Padgetts were married in October of 1945. During their life together they raised eight children. Donald graduated from the University of Virginia in 1948. They would settle in Atlanta, Georgia. Donald Padgett worked as the southern director of public relations at GAC Corp. He also was on several boards including Georgia Consumer Financial Association and vice chair of the Georgia branch of the American Bank.
Because of his earlier bout of hepatitis and no cure at that time it had damaged his liver and Donald died at the early age of 45 on 21 July 1969. He was survived by his mother, Anne, wife, Ruth of 24 years and his 8 children. He was laid to rest at Arlington Memorial Park in Sandy Springs, Fulton County, Georgia. Ruth died when she was 65 in 1988 and was buried next to her husband.