Ranger

Delmas O. Duncan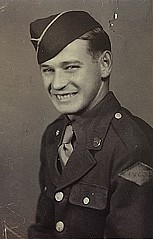 Born: 20 August 1924, Centralia, Marion County, Illinois, United States of America
Died: 29 July 2017, Centralia, Marion County, Illinois, United States of America
Army Serial Number: 36645411
Ranger Battalion/Company: 2C
Rank: PFC
Enlisted:
Discharged:
Battles/Campaigns/Significants: Operation Overlord
Medals/Awards: Bronze Star, Purple Heart, WWII Victory Medal, Combat Infantry Badge, European-Middle Eastern-Africa Medal
Delmas O. Duncan, 92, of Centralia passed away at his home Saturday July, 29, 2017 in Centralia.
Delmas was born Aug 20, 1924 in Centralia, the son of Orson and Susie (Donoho) Duncan. He served his country during WWII with the 2nd Army Rangers, earning a Purple Heart on Omaha Beach on D-Day. He married Ethelene Holsapple in Feb of 1946.
Delmas is Survived by his loving wife of 71 years Ethelene Duncan of Centralia, 3 Children Diane Thompson of Centralia, John O & Teresa Duncan of Centralia, & Larry Duncan of Decatur. 10 Grandchildren, 31 Great-Grandchildren, & 3 Great-Great- Grandchildren.
He was preceded in death by his parents, Orson & Susie Duncan, Daughter Duretta Duncan, Brothers Edgar Duncan & Hennery Duncan, Sisters Bessie Flannigan, Hessie Short, Polly David.
Delmas was a Member of the Centralia American Legion Post 446 & Centralia VFW post 2055& Centralia Masonic Lodge 201. He was a great dancer and won many trophies playing shuffleboard. He will be most remembered as a very friendly guy.