Captain

Dean Alvin Knudson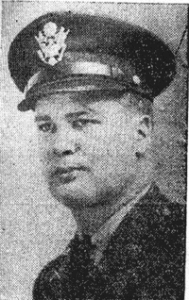 Born:
Died:
Army Serial Number:
Ranger Battalion/Company:
Rank:
Enlisted:
Battles/Campaigns/Significants:
Medals/Awards:
Dean A. Knudson was a 1937 graduate of Wentworth Mil Academy in Lexington, Missouri. He enlisted with the IA National Guard in Dec 1940 at Marshalltown, IA. He was recommended for commission as a 2nd Lt in Dec 1940 with the 168th IA National Guard while attending the University of IA. Having completed courses in Aerial Photography Reading, Care and Operation of Motor Vehicles, Administration I and II, Leadership (Platoon Leader), Weapons (Heavy Weapons Company, Tanks), Defense against Chemical Warfare, Combat Training, Mil History, Mil Law, Property, Emergency Procurement, and Funds, he was sent to Camp Claiborne, LA for six weeks of infantry training. By Executive Order dated 14 Jan 1941 he was appointed a 2nd Lt.
He was commissioned May 10, 1941 while at Fort Dix, NJ with the 168th. In the spring of 1941 Dean was sent to Ft. Benning, GA to attend the Refresher Courses in Rifle and Heavy and Special New Weapons for CO's, where he met Col. Darby who informed him of a new, all volunteer unit being formed, called Ranger, so he volunteered. On 1 Feb 1942 Dean was promoted to 1st Lt. In April 1942, he sailed with the 34th Division for Carrickfergus, N. Ireland and Scotland.
In June 1942, Dean was hand selected by Major Darby to be Commander of 1st Platoon of Company "B' of the 1st Ranger Battalion. He was among the officers who toured Commando training facilities finally deciding on the facility at Achnacarry, Scotland for Ranger Training.
He led the 1st Platoon of Co "B" in "Operation Torch", the invasion of North Africa, in the Nov 1942 night landing at Arzew and the attack on Fort de la Pointe. Here his platoon was in the center of a cemetery with mortars some 225 yards from the Fort. He was also with the 1st Ranger Battalion at Kasserine Pass. It is here that it is believed Dean was wounded in the stomach and received a Purple Heart and a Bronze, or Silver Star but it has not been substantiated. After his recovery he was transferred to limited service Intelligence Section North Africa and was involved in the exchange of coffee, cigarettes, and nylon hose with the Arabs for our downed Army Air Corp pilots, keeping them out of German hands.
Dean was sent back to the states in May 1943 and on to Ft. Benning, GA in June 1943 where he was promoted again to Captain and worked with four other 1st Ranger Battalion officers in the training of the 2nd Ranger Battalion, then at Camp Forrest, TN with the 5th Ranger Battalion until November 1943. He was then transferred to Infantry School, Ft. Benning, GA as an instructor in the Weapons Section. Dean was discharged from the U.S. Army Rangers with the rank of Brevet Major May 16, 1946.
Honored by his nephew Lee Booton
February 2003
If you can support, or refute this story, please contact us.
While in North Africa, Dean maintained the dog in this photo. The dog was a Great Dane named "Duke", aptly named after John Wayne, a native born Iowan from Winterset. Duke was considered the Company "B" mascot. As the story goes (fact or fiction here is unclear), one morning in North Africa as Dean went to pull on his combat boots, Duke grabbed one boot and wouldn't let Dean have it. Finally the dog stuck his long nose into the boot and yelped as he pulled his nose out with a sand cobra hanging from the end of it.
The dog proceeded to kill the snake. A few moments later, Duke succumbed to the toxin in the venom from the many snake bites he'd received in the fracas. The dog was laid to rest with full Ranger Military Honors for his heroism in saving Dean's life. He was the only dog to receive such honors at his burial.