Ranger

Dante A. Raponi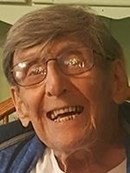 Born: 14 March 1923, Fulton, New York
Died: 2 April 2018, Syracuse, New York
Army Serial Number: 32837653
Ranger Battalion/Company: 4HQ, FSSF
Rank: PFC
Enlisted: 6 February 1943, Syracuse New York
Discharged:
Battles/Campaigns/Significants:
Medals/Awards: Silver Star, Bronze Star, WWII Victory Medal, Purple Heart with two oak leaf clusters for wounds in combat, the Combat Infantry Badge, European-Africa-Middle Eastern Campaign Medal, Conspicuous Cross Medal of New York
Obituary
Dante A. Raponi, 95, of Martville, formerly of Fulton and Panama City, Florida, passed away on Monday, April 2, 2018 at St. Joseph's Hospital in Syracuse.
He had owned and operated Oswego Valley Constructors in Oswego for many years and was a promoter for Oswego Speedway and Fulton Raceway. Dante was the president of Summa-Magna 1 Corporation and invented and patented Estacron, a composition construction material for structural units.
He served with the United States Army Rangers and the USA-Canada First Special Service Forces in the European Theatre of Operations during World War II. Dante was awarded the Silver Star Medal and Bronze Star Medal for valor, the Purple Heart Medal with two oak leaf clusters for wounds in combat, the Combat Infantry Badge among others.
He was a member of the U.S. Army Ranger Association; USA-Canada Special Forces Association; Disabled American Veterans; Society of American Inventors; Southern Building Codes Congress International; Honorable Order of Kentucky Colonels and others.
Surviving are his children, Lindy Lee Mesh-Raponi of Rochester, Amedeo Raponi of Oregon and Roxanne Raponi of California; two grandchildren and many nieces and nephews.
Dante was predeceased by his wife, Ruth Joy Raponi and by three brothers and two sisters