Ranger

Daniel D. Farley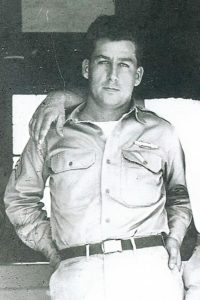 Born: 6 May 1926, Kayford, West Virginia
Died: 30 December 2017, Jackson, Louisiana
Army Serial Number: 35656387
Ranger Battalion/Company: 5A
Rank: PFC
Enlisted: 31 March 1943, Kentucky
Battles/Campaigns/Significants: D-Day, Omaha Beach, Normandy, France; Battle of Zerf, and the Battle of the Bulge
Medals/Awards: Combat Infantry Badge, European-African-Middle Eastern Campaign Medal w/ Device and Star, WWII Victory Medal, Presidential Unit Citation
Gallery
RANGER

DANIEL D. FARLEY – 5A

Daniel D. Farley, Jr., 91, passed away peacefully at The Carpenter House, St. Joseph's Hospice on December 30, 2017. He was born May 6, 1926, in Kayford, District of Cabin Creek, West Virginia. Mr. Farley was one of the "Greatest Generation," a decorated WWII Army Ranger, 5 th Battalion, Company A, and a D-Day survivor of landing on Omaha Beach in Normandy, France; Battle of Zerf, the Battle of the Bulge and numerous others. He was a long-time resident of Dallas, Texas, and Gaithersburg, Maryland. He retired and moved to Baton Rouge and lived there until he became a resident of Louisiana War Veterans Home in Jackson, Louisiana.

He is survived by his daughter, Colleen "Kali" Farley Soulier Marionneaux, her husband, Robert; four grandchildren, Cheri Baddock and her husband, Jace, of Tomball, Texas; Shawn Soulier and his wife, Tess, of New Roads; Brian Bowman and his wife, Leisha, of Birmingham, Alabama; and Yvette Soulier Rushing and her husband, Jeffrey, of Magnolia, Texas; son-in- law, Charles Bowman, of Mobile, Alabama; nine great grandchildren, Hailey and Britton Baddock, Reid, Beau, Blaire, and Brooks Soulier, Emma and Quinn Bowman, and Sydney Rushing; and numerous nieces and nephews. He was preceded in death by his parents, Daniel D. Farley, Sr., and Clara Grant Farley Brackenridge, of Charleston, West Virginia; his daughter, Linda Farley Bowman, of Mobile, Alabama; four wives, Vera Cecile Lockwood Farley Viles, Arline Malone Farley, Debbie Blake Farley, and Molly Richards Farley; and three brothers, David, Robert, and George Edwin Farley.

Visitation will be at Charlet Funeral Home in Zachary, Louisiana at 9:00 a.m. on Wednesday, January 3, 2018, followed by funeral services at 11:30 a.m. Burial will be at 12:30 p.m. at the Louisiana National Cemetery, 303 W. Mount Pleasant Road in Zachary, Louisiana with full military honors.