Ranger

Cecil Dix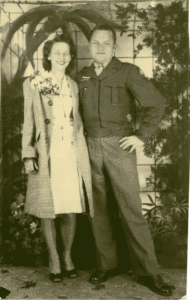 Born:
Died:
Army Serial Number:
Ranger Battalion/Company:
Rank:
Enlisted:
Battles/Campaigns/Significants:
Medals/Awards:
3rd Ranger Battalion "E" Co
The Rev. Cecil Dix
Feb. 22, 1924 - Mar. 19, 2007
The Rev. Cecil Dix, age 83, of Griffin, passed away Monday, March 19, 2007, at Spalding Regional Medical Center.
The Rev. Dix was born Feb. 22, 1924, in Meriwether County, son of the late I.L. Dix and the late Nonie Oglesby Dix. He was a Decorated veteran of the US Army having served in Darby's Ranger in six Campaigns in World War II. He was the pastor of several Churches in Griffin and surrounding areas, most recently as pastor of Damascus Christian Church. He was a member of Oak Baptist Church. He was preceded in Death by his beloved granddaughter Samantha (Sam).
Survivors include his wife of 61 years, Margie M. Dix of Griffin, sons and daughters Tony and Kathy Dix of Peachtree City and Richard and Shirlene Dix of Griffin; sister, Frances Entrekin of Griffin; special daughter and son, Linda and Donald Thompson of Palatka, Fl; grandchildren, Rodney and Kathleen Tomlin of Woodstock, David Dix of Newnan and Lauren Dix of Peachtree City; special nieces and nephews Dianne and Donald Griffin; and Birdie Gary Stansell, all of Griffin; special cousin, Denta Purvis of Tampa, Fl; several nieces and nephews.
Funeral services for the Rev. Cecil Dix will be conducted at 2 p.m. Thursday March 22, 2007, in the Warren Haisten Memorial Chapel. The Rev. John Nance and the Rev. Wendell Jones will officiate. Burial will follow in Westwood Gardens. Friends may visit the family from 6 to 8 p.m. Wednesday, March 21, 2007, at the funeral home and at other Times at the residence. Flowers will be appreciated, however the family suggest that donations in memory of the Rev. Dix be may to the Gideons International P.O. Box 842, Griffin, Ga 30224. To pay condolences to the family online please do so at www.haistenmcculloughfuneralhome.com.
Posted 01 September 2007
Honored by son: Richard C. Dix
grumpy1369@comcast.net