Ranger

Arnold E. Davis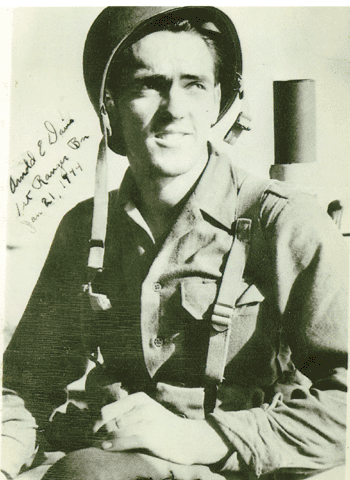 Born: 10 December 1923, LA Crosse LA, Wisconsin
Died: 1 August 2003, Los Angeles, California, USA
Army Serial Number: 16047152
Ranger Battalion/Company: 1E
Rank: PVT
Enlisted: 16 December 1941, Milwaukee, Wisconsin
Battles/Campaigns/Significants:
Medals/Awards:
Ranger Davis was in the 1st Ranger Battalion. According to his daughter, Brandi Belton, Ranger Davis was at Anzio and one of six rangers to return after the attack of "Cisterna di Littoria" on Jan 31, 1944. Her father told her that while they were sitting under a bridge that day, the six remaining men all signed their names on a dollar bill and a small card.
The card (which he still has) was signed on the Anzio beachhead by the following Rangers:
Davis, Arnold E
Smith, Richard G
Sitarchyk,Joseph A
Mosier, Ben F
Fergen, Thomas B
Holbrooks, James J Eger
and either Facer, Charles, or Ellis, Thurman
When Brandi was younger, she recalls watching the movie, "Darby's Rangers" with her father. She remembers her father saying that the part in the movie that was the most accurate, was when the Rangers rolled under the treads of the German tanks, as the tanks went up over a rise in the road. He told her that he was one of those Rangers and that it was the only way they could cross the road without the German's seeing them.
Ranger Davis is alive and watching the website. His daughter was kind enough to share some memories and this photograph.
Photo and narrative submitted by Ranger Davis' daughter:
Brandi Belton
September 2002